Theseusta huolletaan. Kirjautuminen on estetty ja järjestelmän uudelleenindeksoinnista johtuen arkistossa näkyy alkuun vähemmän töitä kuin siellä oikeasti on.
Algae Energy : A Perspective on Algae as a Biogas source in Nordic Climate
Sharma, Shiva (2017)
---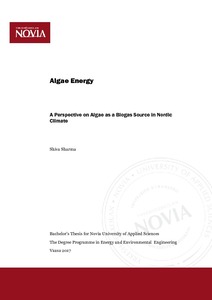 Yrkeshögskolan Novia
2017
All rights reserved
Julkaisun pysyvä osoite on
http://urn.fi/URN:NBN:fi:amk-201702172498
Tiivistelmä
Anaerobic digestion of algae has gained high attention recently both as a renewable energy source and for a wastewater treatment. The biodegradability of algae, based on methane yield and biomethane potential (BMP), varies significantly depending upon the species. These properties are key parameters to be considered for economy, design, and operation of a full-scale biogas plant that wants to use algal biomass as substrates.
This Bachelor's thesis is based upon work carried out for Botnia-Atlantica Project TransAlgae with the aim of investigating BMP of different algae species and finding the optimal mixture of algae with municipal organic waste and straw. This work is based, for the theoretical part, on literature research focusing on background information on anaerobic digestion and different perspectives of algae as anaerobic digestion substrate. The practical part consists of laboratory tests conducted with Automatic Methane Potential Test System II (AMPTS II) where different samples of micro-algae consortia and macro-algae species were digested to test their BMP. Furthermore, different species of Scenedesmus dominated micro-algae consortia samples and Laminaria Digitata species were co-digested with municipal organic waste and straw in different ratios to find the optimal mixture. The results show the BMP of ratio of each substrates with total of average BMP from all substrate.
Kokoelmat