Educational Institutes and Large-scale Outplacement Processes : Combining Education with Social Responsibility and Outreach
Tani, Petri; Oksanen-Ylikoski, Elina; Ylikoski, Teemu (2016)
---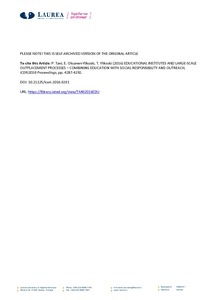 Tani, Petri
Oksanen-Ylikoski, Elina
Ylikoski, Teemu
International Academy of Technology, Education and Development
2016
Julkaisun pysyvä osoite on
http://urn.fi/URN:NBN:fi:amk-201703022848
Tiivistelmä
Outplacement activities are a form of professional care toward dismissed employees. The purpose of outplacement is to offer support for re-employment and making a forced leave easier. Outplacement services often contain recruitment training for writing applications and self-presentation, career counselling, job placement or job search services, and psychological and legal counselling.

In outplacement, activities that are common in seeking employment are paid by the downsizing organisation, and not the individual. The activities are often tailored to the organisation's specific needs, location, and industry. Outplacement serves to ease the individual's transition towards new employment, and also, to control the negative impact on an organisation's reputation.

In Finland, nearly 12,000 employees were made redundant in 2015. Roughly 114,000 employees were under co-determination negotiations potentially leading to termination. Employees' rights against termination of employment can be seen as weaker in the Nordic countries in comparison to Europe in general. To support large-scale redundancies, the Republic of Finland has received support from the European Globalisation Adjustment Fund.

In April 2016, Nokia announced plans for massive reductions in its Finnish workforce, aiming to downsize by 1,300 employees in Finland. Shortly after this, Microsoft announced its plans to terminate its mobile phone design and production operations in Finland, resulting in 1,350 layoffs. Both of these incidents have a direct impact to the larger Helsinki metropolitan area, particularly the City of Espoo.

The City of Espoo took an active role once the reductions were announced and organised a network meeting for different organisations, who might be able to help the transition and re-employment of the affected employees. The City of Espoo is seeking for new approaches in outplacement. One that seems to have a lot of potential is education, as it can help the individual in identifying current capabilities, but also, in training for a new profession.

Laurea University of Applied Sciences partnered with the vocational education provider Omnia to design a joint education program, targeted towards these recently terminated employees in the ICT sector. The program, "Laurea MBA – from digital competences to entrepreneurship", offers new career
choices as well as an entrepreneurial path.

For Laurea and Omnia, participating in the outplacement process offers a unique opportunity. First, it ties in with their core tasks of educating individuals and improving their competences. Secondly, it offers a way to achieve social responsibility in an important economic area. Thirdly, the opportunity is also a way to leverage societal impact and outreach, a task which is becoming increasingly important in education.

Traditionally, universities have played a less pronounced role in outplacement processes. However, it appears there are substantial benefits for all parties, and the issue should be investigated more thoroughly, particularly as the importance of self-employment has risen dramatically in the society. Education can be an important means to ensure psychological well-being in the stressful posttermination situation.
Kokoelmat