Smart tools and service opportunities for child protection ecosystem in the future : case family view
Meristö, Tarja; Kantola, Tarja; Lankinen-Lifländer, Merja (2016)
---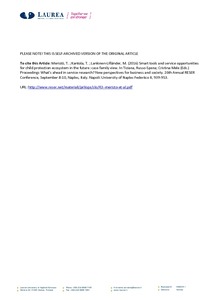 Meristö, Tarja
Kantola, Tarja
Lankinen-Lifländer, Merja
European association for research on services conference
2016
Julkaisun pysyvä osoite on
http://urn.fi/URN:ISBN:979-12-200-1384-0
Lähdeviite:
Meristö T., Kantola T., Lankinen-Lifländer M., (2016). Smart tools and service opportunities for child protection ecosystem in the future : case family view. , European association for research on services conference.
URN:ISBN:979-12-200-1384-0
Tiivistelmä
This paper will focus on the future alternatives of child protection ecosystem with various services in different cases. Four alternative scenarios for the child protection to 2035 were formulated: 1. Promotive 2. Primary 3. Secondary 4. Tertiary. The context of this paper is the changing landscape of societies because of megatrends like digitalization, urbanization, individualization and polarization. These development trends will promote smart but cost effective solutions which can be reached by everyone. Our study will focus on Promotive scenario in child family case in Porvoo region developed in workshops with child protection ecosystem actors during the autumn 2015 and the spring 2016.
Kokoelmat