Using digital co-creation for innovation development
Ligthart, Ruusa; Porokuokka, Jaakko; Keränen, Krista (2016)
---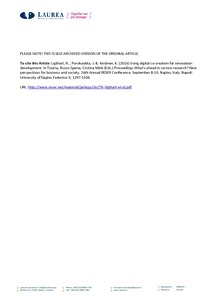 Ligthart, Ruusa
Porokuokka, Jaakko
Keränen, Krista
European association for research on services conference
2016
Julkaisun pysyvä osoite on
http://urn.fi/URN:ISBN:979-12-200-1384-0
Lähdeviite:
Ligthart R., Porokuokka J., Keränen K., (2016). Using digital co-creation for innovation development. , European association for research on services conference.
URN:ISBN:979-12-200-1384-0
Tiivistelmä
The role of digitalisation in people's daily lives appear to be among the most touted stories of the century. It can be also seen that adopting new digital technologies is not easy for everyone. Thus there seems to be a demand for approaches which would support and motivate people in adapting digitalisation. Digital co-creation could be a powerful approach to enhance this adaptation. Yet, there seems to be a very little literature on digital co-creation. Hence, this is a theoretical paper which aims to map the current state of literature on digitalisation, co-creation and digital cocreation resulting a preliminary framework to better understand on how to explore the nature of digital co-creation.
Kokoelmat