The Carneval of the animals (COA) : iPad app as a tool of for the students' professional growth via practice oriented research on culture-based interaction
Marjanen, Kaarina; Cslovjecsek, Markus (2017)
---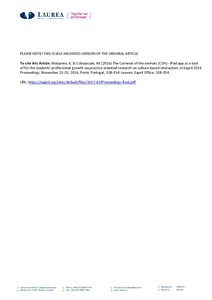 Marjanen, Kaarina
Cslovjecsek, Markus
EAPRIL Office
2017
Julkaisun pysyvä osoite on
http://urn.fi/URN:NBN:fi:amk-201703293871
Lähdeviite:
Marjanen K., Cslovjecsek M., (2017). The Carneval of the animals (COA) : iPad app as a tool of for the students' professional growth via practice oriented research on culture-based interaction. , EAPRIL Office.
URN:NBN:fi:amk-201703293871
Tiivistelmä
The education profession is currently facing the world of touch-based electronic devices in the teaching profession. Richtel (2010) reported concerns of the devices may bring. IPad also might help creative stimulation (Geist, 2012), and help boost the individual learning levels of children (Wilkinson, 2010). In this study project, the Carnival of the Animals (COA) -app for the iPad was set as a tool for the teacher students' professional growth while also investigating the children's interaction behavior. The project was based on child-oriented and practice based study methods. Besides the video and tracking data (669,89 min.) resulting from the COA study procedure (Perez & Cslovjecsek, 2013), including two interviews in each family performed by the students (n=20) with the 3-4-year-old children (n=10), five students were interviewed (195,16 min. data) six months after the study process. Data on one of the children analyzed by a group of students was taken for a more detailed analyses by the teacher-researcher. As a result of the project, according to the students' professional identity and growth, and especially with reference to the two parallel analyses (student – teacher-researcher) made, it was shown that a deeper musical basis, knowledge and understanding of the musical elements, would provide the student with a variety of tools to observe and interpret the child's musical interaction behavior. The COA as a tool may support the development of the professional identity, in a culture oriented dialogue with music education with its possibilities to support the student also in the researchoriented tasks.
Kokoelmat