Commissioning and Start-up Process Improvement for DF-engines : a commissioning manual upgrade
Åbonde, Jacob (2017)
---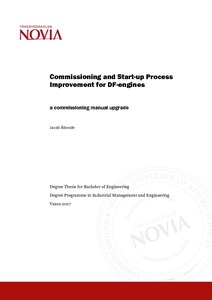 Yrkeshögskolan Novia
2017
All rights reserved
Julkaisun pysyvä osoite on
https://urn.fi/URN:NBN:fi:amk-201704134760
Tiivistelmä
This thesis is made on behalf of Wärtsilä Marine Solutions. The purpose with this thesis was to update the already existing Commissionig Manual. The Commissioning Manual contains information on how the commissioning and start-up process for Wärtsilä engines works.
Wärtsilä has limited control during pre – commissioning. During pre – commissioning the buyer's yard installs the delivered engines and external systems without the supervision of Wärtsilä, therefore it is important to have proper documentation on how to install the engines.
When pre – commissioning is finished Wärtsilä arrives to yard to cunduct commissioning. Commissioning focuses on starting up the engines and making sure that they fullfill the contractual requirements. It seldom happens that pre – commissioning is sufficient when Wärtsilä arrives to buyer's yard to conduct commissioning, often Wärtsilä faces an unfinished installation and has to assist the yard with the pre – commissioning work in order to keep the shedule for handing over the vessel.
The previous Commissioning Manual left many unanswered questions for the reader. With this update, the Commissioning Manual is more informative and structured to follow the different phases of commissioning. Together with this update a new way of working during Pre – commissioning was introduced. The updates are described in the result chapter of this thesis.
Detta examensarbete är gjort på uppdrag av Wärtsilä Marine Solutions. Syftet med detta examensarbete var att uppdatera den redan befintliga manualen för idrifttagning. Manualen för idrifttagning innehåller information gällande idrifttagningsprocessen för Wärtsilä motorer.
Wärtsilä har begränsad kontroll före idrifttagningen. Motorerna installeras av köparen utan uppsikt av Wärtsilä, därför är det viktigt att ha bra dokumenterad information över hur man installerar motorerna.
När motorerna har installerats av köparen reser Wärtsiläs personal till köparen för att påbörja idrifttagningen. Under idrifttagningen fokuserar man på att starta upp motorerna och se till att de uppfyller de kontraktuella kraven. Det händer sällan att motorerna har installerats enligt Wärtsiläs rekommendationer och Wärtsilä måste ofta assistera köparen med att installera motorerna för att kunna hålla tidsschemat med att ge över fartyget till köparen för kommersiellt bruk.
Den tidigare manualen för idrifttagning var svår att förstå för den som inte är insatt i ämnet. Med denna uppdatering är idrifttagningsmanualen mera informativ och uppställd enligt idrifttagningens olika faser. Med denna uppdatering kom också ett nytt sätt att arbeta före idrifttagningen när Wärtsilä har minst kontroll. Updateringarna är presenterade i resultatdelen i detta examensarbete.
Kokoelmat