Språk stöder språk : En kvalitativ studie i hur flerspråkighet befrämjas inom småbarnspedagogiken
Backlund, Terese (2017)
---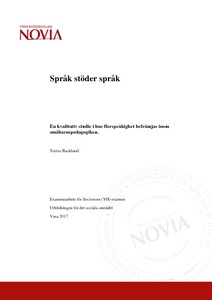 Yrkeshögskolan Novia
2017
All rights reserved
Julkaisun pysyvä osoite on
https://urn.fi/URN:NBN:fi:amk-201704275581
Tiivistelmä
Syftet med examensarbetet är att undersöka på vilka sätt pedagoger i samarbete med vårdnadshavare främjar flerspråkighet inom småbarnspedagogiken. Examensarbetet fokuserar på språkutveckling hos barn med ett annat modersmål än majoritetsspråket. Som undersökningsmetod används intervjuer med daghemspersonal. Syftet undersöktes utifrån två forskningsfrågor:
Stöder daghemmets språk hemspråket utifrån pedagogernas synvinkel?
Arbetar pedagogerna aktivt med att befrämja flerspråkighet?
Teoridelen behandlar flerspråkighet och modersmål, språkutveckling och hinder för språkutveckling, pedagogens roll samt språkmiljö och språkstimulering.
Undersökningen genomfördes genom intervjuer med barnträdgårdslärare och barnskötare på fyra daghem. Slutsatsen blev att språket stöds utifrån det individuella barnets behov. Pedagogerna ser inte skillnad på de flerspråkiga och enspråkiga barnen utan de ser vilka behov de har och arbetar utifrån dem. Pedagogerna arbetar främst med att stödja det svenska språket men samarbetar med barnens föräldrar och uppmuntrar dem att använda sina hemspråk så att barnen får utveckla sina modersmål också. Det framkom att det är viktigt att barnets modersmål utvecklas som förutsättning för att barnen skall kunna utveckla andra språk.
The purpose of this thesis is to examine in which ways pedagogues are co-operating with parents to support multilingualism in early childhood education. This thesis is focusing on language development amongst children who's first language spoken (or primary language spoken by the parents) is not the majority language where they now reside. Interviews were conducted with nursery school pedagogues as the primary research method in this thesis. There were two main research questions used to determine findings and establish a foundation to this thesis;
-In the opinion of the pedagogue, is the language of the nursery school supporting the parental tongue?
-Are the pedagogues working actively to encourage bilingualism?
The theory part of the thesis is about multilingualism and mother tongue, language development and obstacles for language development and the role of the pedagogue and language stimulation.
The examination was implemented by interviews with nursery school teachers and day care workers in four nursery schools. The conclusion was that the mother tongue was supported based on the individual child's needs. The pedagogues didn't see a difference in the bilingual and monolingual children, they assess what needs the individual requires and work on that basis. The pedagogues work primarily with supporting the Swedish language, but they also work with the children´s parents by encouraging them to use their parental tongues so the children may develop their bilingualism. It appears that it is important that a child´s mother tongue is developed properly to serve as a prerequisite for a children's ability to learn other languages in the future.
Kokoelmat