Utomhuspedagogik som inlärningsmetod : En handbok och fortbildningskvällar för pedagoger i utomhuspedagogik
Fredriksson, Lotta (2017)
---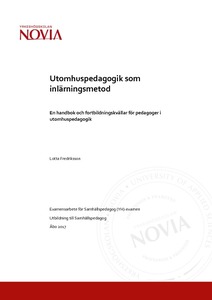 Yrkeshögskolan Novia
2017
All rights reserved
Julkaisun pysyvä osoite on
http://urn.fi/URN:NBN:fi:amk-201705036155
Tiivistelmä
Folkhälsan har länge samarbetat med skolorna i Åboland och lett lektioner i utomhuspedagogik. Nya kriterier för läroplanen för den grundläggande utbildningen (21.8.1998/628) i Finland trädde i kraft i augusti 2016. Den nya läroplanen uppmanar till att inlärningen skall ske i varierande miljöer som exempelvis utomhus, vilket betyder att skolorna uppmanas till att utföra Folkhälsans tidigare tjänster. För ett fortsatt samarbete behöver Folkhälsan erbjuda nya ändamålsenliga tjänster.
Syftet med examensarbetet är att sänka tröskeln för pedagogerna att flytta klassrummet utomhus. För att uppnå syftet och svara på Folkhälsans behov produceras en handbok och fortbildningskvällar i utomhuspedagogik. Eftersom arbetet ledde till två nya produkter, en handbok och fortbildningskvällar, är detta ett handlingsbaserat examensarbete.
Målet är att handboken skall vara lätt tillgänglig och användbar för pedagoger som vill ta i bruk utomhuspedagogik som inlärningsmiljö. Fortbildningskvällarna skall inspirera deltagarna till att flytta klassrummet till närmiljön och konkretisera för dem vad det innebär. Fortbildningskvällarna riktar sig till pedagoger i Åboland eftersom det är Folkhälsans Förbund r.f. / Åbolands verksamhetsområde. Handbokens målgrupp är finlandssvenska pedagoger.
Examensarbetet resulterar i två nya produkter som svarar på Folkhälsans Förbund r.f. / Åbolands behov. Handboken samlar Folkhälsans mest omtyckta övningar i utomhuspedagogik och finns tillgänglig på internet som exempelvis på uppdragsgivarens Facebook-sida och theseus.fi. Fortbildningskvällarna ledde till en ny tjänst som kommer erbjudas i framtiden och arrangeras kontinuerligt av Folkhälsan.
Folkhälsans Förbund r.f. / Åboland has collaborated with schools in Varsinais-Suomi for many years and led classes in outdoor education. New criteria for the curriculum of basic education came into force in August 2016.The new curriculum calls for learning to take place in various environments such as outdoors. This means that schools can perform the services earlier prodvided by Folkhälsan. For further co-operation, Folkhälsan needs to offer new appropriate services.
The aim of the thesis is to lower the threshold for educators to move the classroom outside. To achieve the purpose, and respond to Folkhälsan's needs, I produced a handbook and training evenings of outdoor education. This is an action-based thesis since the work led to two new products, the manual and training evenings.
The goal is to produce a manual that's easily accessible and useful for educators who want to use outdoor education as learning environment. Training evenings will inspire participants to move the classroom to the local environment and concretize for them what it means. The training evenings are addressed to educators in Varsinais-Suomi, because it belongs to Folkhälsan Förbund r.f. / Åboland's district. The target group of the manual is Swedish-speaking educators.
The thesis results in two new products that respond to the Folkhälsans Förbund r.f. / Åboland's needs. The manual compiles Folkhälsan's most popular exercises in outdoor education and is available on the internet, for example on the co-operator's Facebook page and theseus.fi. Training evenings led to a new service that will be offered in the future and is going to be continuously organized by Folkhälsan.
Kokoelmat