Huom! Theseus-tuen yhteydenotto on poissa käytöstä teknisten huoltotöiden takia 11.–15.10.2019. Ongelmatilanteessa ota yhteyttä oman ammattikorkeakoulun kirjastoon. Attention! Theseus Support e-mail is out of use 11.–15.10.2019. In case of problems please contact your own UAS Library. OBS! Theseus Support e-post är ur användning 11.–15.10.2019. Om du har problem, vänligen kontakta ditt eget UAS-bibliotek.
Riskfaktorer vid ungas missbruk – ur ett socialpedagogiskt perspektiv. : En litteraturstudie
Holm, Sofia Cecilia; Lindholm, Tia (2017)
---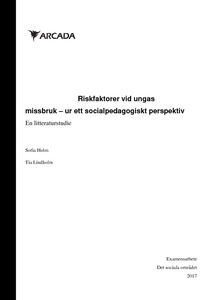 Holm, Sofia Cecilia
Lindholm, Tia
Yrkeshögskolan Arcada
2017
All rights reserved
Julkaisun pysyvä osoite on
http://urn.fi/URN:NBN:fi:amk-201705127985
Tiivistelmä
Drogmissbruk är ett aktuellt ämne och kan leda till mångproblematik. Syftet med ar-betet är att identifiera och redogöra för specifika riskfaktorer som kan bidra till att den unga provar på droger. En fördjupad kunskap om de olika riskfaktorerna kan stödja ett förebyggande socialpedagogiskt arbete och det kan även påverka den fortsatta vården i strävan till att få de unga ur eventuellt drogmissbruk. Syftet med studien är att identi-fiera och redogöra för specifika riskfaktorer som kan bidra till att den unga provar på droger. I denna litteraturstudie tar reda på följande frågeställning: Vad kan bidra till att den unga börjar använda droger? Studien innefattar vetenskaplig litteratur om vilka riskfaktorer som påverkar att ungdomar mellan 13 och 21 år utvecklar ett missbruk. Resultaten visar att det finns ett starkt samband mellan flera olika riskfaktorer, och risken för att den unga utvecklar ett missbruk. Det krävs ofta fler än en riskfaktor för att den unga provade på/ använde droger. Riskfaktorerna är kumulativa (och korrelerar med varandra): ju fler riskfaktorer den unga råkar ut för, desto större risk lider den unga för att bli socialt exkluderad vilket i sin tur kan bidra till ett drogmissbruk. Re-sultaten visar att psykiska svårigheter och problembeteende, problematiska familje-förhållanden och uppväxtmiljö, könsskillnader och attityden mot droganvändningen mest ökar risken för att den unga utvecklar ett missbruk. Desto mera riskfaktorer den unga utsätts för desto mer sannolikt är även ett missbruk och kan, enligt våra resultat, ses som den mest relevanta riskfaktorn.
Because drug abuse is a current topic and can lead to many problems. The purpose of this study is to highlight and explain the specific factors that can contribute to why the young may develop a drug problem. These factors may also affect the continued care in the quest to get the young people of any drug abuse. The purpose of the study is to iden-tify and describe specific risk factors that can cause the young to try drugs. In this study, we have chosen to study the following question: what risk factors may contribute to young people developing an addiction? The study shows what kind of risk factors may affect young people between 13 and 21 years developing an addiction. According to the
results, there is a strong correlation between the various risk factors, and the risk that the young people develop an addiction. It often takes more than one risk factor for the young to develop a drug problem. The risk factors are cumulative (and correlated with each other): the more risk factors a young encounter, the greater the risk of becoming socially excluded, which in turn can contribute to drug abuse.
Our results show that mental difficulties and behavioral problems, problematic family circumstances and upbringing, gender differences and attitude toward drug use increases the risk of the young developing an addiction. The risk of developing a substance abuse increases the more risk factors one sustains and can, according to our results, be the most relevant risk factor.
Kokoelmat