Hemsida för musiker : Ett arbete om hur en hemsida konkretiseras och hur den fungerar som marknadsföring av musiker
Svenfelt, Joel (2017)
---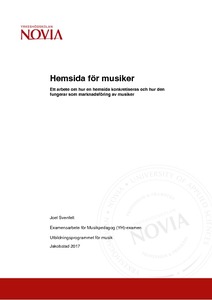 Yrkeshögskolan Novia
2017
All rights reserved
Julkaisun pysyvä osoite on
http://urn.fi/URN:NBN:fi:amk-201705158127
Tiivistelmä
Detta arbete handlar om hur man konstruerar en hemsida för musiker i marknadsföringssyfte. Jag har skräddarsytt en hemsida åt mig själv som ett praktiskt arbete. Syftet med denna undersökning är att förbereda mig själv för arbetslivet och att det skall fungera som ett hjälpmedel för andra musiker att marknadsföra sig.
För att kunna erbjuda sina tjänster som musiker behöver man en plattform. Eftersom man ofta vänder sig till internet då man vill hitta information, är en hemsida en bra plattform. Genom att fokusera på en hemsida når musikern ut till en bred kundkrets inte bara lokalt, men också internationellt.
Frågor som jag kommer att behandla subjektivt och konkret är: Vilka verktyg och element behövs för att göra en effektiv och lyckad hemsida för en musiker? Hur ökar man synlighet för hemsidan via publiceringssidan Squarespace? För att besvara dessa frågor har jag i mitt arbete använt mig av en empirisk forskningsmetod. Jag har genom observationer och egna erfarenheter hittat gemensamma nämnare och handplockat de väsentligaste delarna från olika hemsidor.
In this thesis I discuss how to create a website, with a marketing perspective, for a musician. As a practical thesis, I have tailored my own website. The aim of this study is not only to prepare myself for a life in the field but also to exist as a marketing tool for other musicians.
In order to offer your services as a musician you will need a platform through which to market yourself by. Often when information is needed, customers turn to the internet. By creating a website you can reach a wide range of customers both locally as well as internationally.
In my work I will, subjectively and in practical terms, process these questions: What tools and elements are necessary to create an effective and successful website for a musician? How can you increase visibility for the website through the website builder Squarespace? In order to answear these questions I have used an empirical research metod. Through observations and personal experiences, I have located common denominators and handpicked the most essential parts from different websites.
Kokoelmat