Huom! Theseus-tuen yhteydenotto on poissa käytöstä teknisten huoltotöiden takia 11.–15.10.2019. Ongelmatilanteessa ota yhteyttä oman ammattikorkeakoulun kirjastoon. Attention! Theseus Support e-mail is out of use 11.–15.10.2019. In case of problems please contact your own UAS Library. OBS! Theseus Support e-post är ur användning 11.–15.10.2019. Om du har problem, vänligen kontakta ditt eget UAS-bibliotek.
Tekniska innovationer - en spelvändare för logistikbranschen
Tuominen, Elmer (2017)
---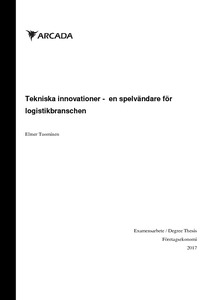 Yrkeshögskolan Arcada
2017
All rights reserved
Julkaisun pysyvä osoite on
http://urn.fi/URN:NBN:fi:amk-201705168478
Tiivistelmä
I detta examensarbete behandlas två tekniska innovationer som kan positioneras i flödeskedjan inom den närmaste framtiden; 3D-skrivaren och drönaren. Arbetet delas upp i en teoretisk och en empirisk del. Teoridelen utgår från existerande litteratur, artiklar och dagstidningar. Den empiriska delen baserar sig på insamlad data från företag och personer som är involverade med dessa teknologier, eller som är relevanta för frågeställningarna. Datan är insamlad genom personliga intervjuer och frågeblanketter. Temat för examensarbetet är tekniska innovationer vars tillväxtgrad är hög. Syftet med arbetet är att undersöka hur dessa teknologier fungerar, vilka dess begränsningar är, hur de kan tillämpas inom flödeskedjan, och vad de är kapabla till i framtiden. Problemställningen utgår från hur 3D-skrivare kommer ändra transportsektorn då produktionen kan bli lokal, och hur drönare kan förändra och effektivera både inre och yttre logistik. 3D-skrivarna begränsas ännu av tids- och kostnadsaspekter vilket ännu gynnar massproduktion. I framtiden kommer 3D-skrivare att användas för att minska inventarier och lokalisera produktion. Detta kommer innebära att transporter blir kortare och mer frekventa. Logistikföretag kommer därför koncentrera sig mer på service och anpassade leveranser. Drönare är ännu begränsade med räckvidd, väderförhållanden och automatiserade navigationssystem. Inom logistiken kan drönare användas för att nå svåråtkomliga ställen. De kan även utnyttjas på förutbestämda rutter, tidsbestämda leveranser till kunder, och sista-kilometers leveranser. Drönare kan även utnyttjas inom inre logistik i fabriker och mindre områden.
This bachelor´s thesis is about two technical innovations that may be positioned in the supply chain within the close future; the 3D-printer and the drone. The thesis is separated into a theoretical-, and empirical part. The theoretical part has been written using existing literature, articles and newspapers. The empirical part is based on collected data from personal interviews as well as forms. The theme of the thesis concerns technical innovations that will change the field of logistics, and has a rapid growth rate. The purpose with the work is to research how these technologies work, what the limitations are, how they can be implemented within the supply chain, and what they are capable of in the future. The problem in hand is based on how 3D-printers will change the transportation sector when production is localized, and how drones will change inner- as well as outer logistics. 3D-printers are still limited by time- and cost aspects which doesn´t allow for mass production. In the future, 3D-printers can be used to minimize inventories and localize production. This will allow for shorter and more frequent transportation routes. Current logistical companies will focus more on service and customized deliveries. Drones are still limited by range, weather and automized navigationsystems. Within logistics, drones could be used in order to access difficult areas. They can also be used for pre-set routes, time-specific deliveries to customers, and "last-mile-deliveries". Drones can also be used within inner logistics, such as factories and smaller areas.
Kokoelmat