Kemikalier i vår vardag : En studie om kemikalier och dess inverkan på hälsan
Wiklund, Malin (2017)
---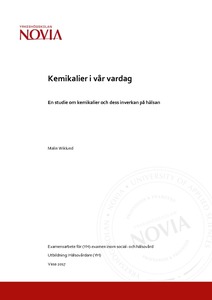 Yrkeshögskolan Novia
2017
All rights reserved
Julkaisun pysyvä osoite on
http://urn.fi/URN:NBN:fi:amk-201705168425
Tiivistelmä
Syftet med examensarbetet är att undersöka farliga kemikalier som används i vardagen, vilken effekt de har på människors hälsa och hur man som hälsovårdare kan informera om detta. Som teoretiska utgångspunkter har Nola J. Penders teori om hälsopromotion och James Prochaskas transteoretiska modell för beteendeförändringar använts. Den metod som valts till examensarbetet är Arksey och O'Malleys scoping review och materialet har hämtats från lagstiftningar, elektroniskt och manuellt sökta artiklar samt websidor. Materialet har analyserats utgående från de fem steg som finns uppräknat i scoping review. För att få en överblick av materialet som använts och dess innehåll finns det bifogat en resumé över artiklar och en över websidor och lagstiftningar i slutet av arbetet.
Utgående från analysen hittades fyra kategorier; kemiska ämnen, effekter på hälsan, sjukdomar orsakade av kemikalier och vem exponeras. Dessa kategorier beskrivs i bakgrunden vilket sedan som resultat har sammanfattats i en broschyr som kan användas som underlag för hälsovårdare vid hälsofrämjande samtal om kemikalier. Broschyren innehåller de nya faropiktogrammen, var kemikalierna hittas, en informationsdel om några av kemikalierna, tips på hur kemikalieanvändningen kan minskas och en modell för hur man som hälsovårdare kan gå till väga vid hälsofrämjande samtal gällande kemikalier.
The purpose of this thesis is to examine dangerous chemicals that are used in our daily life, what the health effects are and how you, as a public health nurse, can inform your patients about this. For the theoretical framework two theorists have been used, Nola J. Pender and her theory about health promotion and James Prochaska and his transtheoretical model of behavior change. As a method Arksey and O'Malleys scoping review was approached and the material consists of laws, electronically and manually searched articles and webpages. The material was analyzed according to the five stages described in scoping review. To get an overview of the used material and its contents a brief article is attached in the end of the thesis.
From the analysis, four categories were found; chemical substances, health effects, diseases caused by chemicals and who is exposed. These categories are described in the background which are later as a result summarized in a brochure that can be used as a framework for public health nurses in their health promotion conversations about chemicals. The brochure contains the new hazard pictograms, where the chemicals are found, information about some of the chemicals, small tips how to reduce the use of chemicals and a model how, as a public health nurse to proceed at health promotion conversation about chemicals.
Kokoelmat