Sharing Economy in Travel and Tourism: Finland vs. Hong Kong
Shoaib Ullah, Syed (2017)
---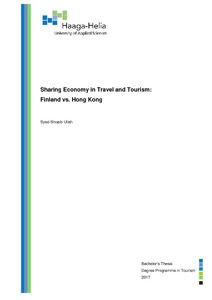 Haaga-Helia ammattikorkeakoulu
2017
All rights reserved
Julkaisun pysyvä osoite on
http://urn.fi/URN:NBN:fi:amk-201702282768
Tiivistelmä
The key aim of this thesis is to determine how the sharing economy companies, especially sharing accommodation services like Airbnb, are affecting travel and tourism industry in Fin-land and in Hong Kong. The thesis also looks into the future of sharing economy in travel and tourism industry and any possibilities of cooperation between traditional service providers and sharing economy companies. The thesis is commissioned by the Association of Finnish Travel Agents (AFTA/SMAL).

In the theory part, after a brief overview of current situation of travel and tourism industry sharing economy is described as a phenomenon and its presence in travel and tourism indus-try. Transportation and accommodation are two major sectors of tourism industry. A few pop-ular sharing economy companies from both these sectors are introduced. A brief overview of both target markets Finland and Hong Kong concludes the theory part.

Qualitative research method is used initially to conduct this research. Semi-structured inter-views were conducted to get descriptive view on sharing economy and its effects on travel and tourism industry. To get diverse results, four different categories of interviewees were targeted for the interviews: hotel managers, travel/tour operators, business travellers, sharing economy users. Over all 12 interviews were conducted in Finland and 14 in Hong Kong in-cluding 7 hotel/hostel managers, 6 travel/tour operators, 6 business travellers and 7 sharing economy users.

Results of the study reveal that overall attitude of people towards sharing economy services is positive. Everyone is willing to use these services in future either they have used it already or not. Nevertheless there are some concerns like safety and security which need to be looked after. Sharing accommodation services are an alternative of traditional accommodation pro-viders, however they are not considered a direct competition to hotels. Luxury and business hotels are not affected much by sharing economy companies since they provide unique ser-vices like spa, swimming pool, meeting facilities etc., nonetheless budget hotels and hostels are vulnerable to peer-to-peer accommodation services.

Sharing economy is growing fast and it will get bigger in future in spite of some legislation and taxation issues in some parts of the world. Although Finland has very strict laws, there are greater chances for companies like Airbnb to grow here since there are a large no. of exotic summer cottages which can be offered for renting. On the contrary, Hong Kong is very small and there is lack of housing facilities. People live in small flats and they do not have any spare room to share. Moreover, people do not trust strangers to share their houses because of their culture. With all these issues on hand, there are fewer chances for Airbnb and similar sharing accommodation services to grow in Hong Kong.
Kokoelmat