Mekanisk bekämpning av kvickrot med redskap av typ Kvick-Finn
Löfqvist, Carl-Magnus (2017)
---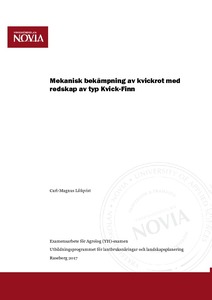 Yrkeshögskolan Novia
2017
All rights reserved
Julkaisun pysyvä osoite on
http://urn.fi/URN:NBN:fi:amk-201705219258
Tiivistelmä
Ekologisk odling har ökat stadigt de senaste åren. Den inhemska produktionen är ändå för liten för att täcka konsumtionen. Detta leder till att råvaror importeras, som till stor grad kunde ha producerats av inhemska odlare. Den stora utmaningen är att hålla nere ogrästrycket och speciellt kvickroten inom odlingen.
Detta examensarbete består av en teoridel och en intervjudel. I teoridelen behandlas kvickrotens egenskaper, dess känslighet för mekanisk bearbetning samt olika metoder och strategier för en lyckad mekanisk bekämpning av kvickrot. Genom intervjuer av ekologiska odlare som har tillgång till en Kvick-Finn-kultivator beskrivs bekämpningen av kvickrot med hjälp av detta redskap. Det visade sig att jordbrukarna hade en högre tillit till Kvick-Finn-kultivatorn än vad som är motiverat utifrån försök.
Det allmänna målet är att beskriva hur man kan lyckas med mekanisk bekämpning av kvickrot.
Organic farming has grown steadily in recent years. Domestic production is still too small to cover consumption. This means that raw materials are imported, instead of being produced by domestic growers. The big challenge is to keep down the weed pressure, and especially that of couch grass.
This thesis consists of a theoretical and an interview part. The first part compiles information on the characteristics of couch grass, and its sensitivity to mechanical control, as well as on various methods and strategies for successful mechanical control of this weed species. Interviews were carried out with organic farmers who have hands on- experience of a Kvick-Finn-cultivator. The farmers appeared to have a high confidence in the efficiency of the Kvick-Finn-cultivator, This preference is not motivated by the results of the field experiments that have been carried out with this equipment.
The goal of this work is to describe how to succeed with a mechanical control of couch grass.
Kokoelmat