Kan den finländska producenten påverka representation inom media? : Intervjuer med film- och TV-producenter
Johansson, Frida (2017)
---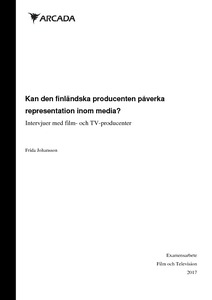 Yrkeshögskolan Arcada
2017
All rights reserved
Julkaisun pysyvä osoite on
http://urn.fi/URN:NBN:fi:amk-201705199071
Tiivistelmä
Examensarbetet frågar sig hur producenter av finländsk media (film, television, dokumentär) kan påverka och försäkra sig om existensen av representation av kvinnor i den media de producerar. Syftet är att kartlägga och klargöra hur ansvaret för representation fördelas mellan producenter och andra påverkare inom processen för att skapa medieinnehåll. Med representation avses avbildningen av en person i media – det vill säga, visar medieinnehållet en varierad typ av människor? Representation är en viktig aspekt av medieforskning, både könen emellan och då det gäller andra minoriteter. Nivån av representation av kvinnor i finländsk media är väldigt låg, även om den långsamt är på väg mot ett bättre håll.
Forskningen gjordes genom att intervjua fyra finländska producenter: Leila Lyytikäinen, Annika Sucksdorff, Kaarle Aho, och Maarit Lalli. Producenterna arbetar alla i huvudstadsregionen, har producerat varierande media, och var tillgängliga för intervjuer i april 2016. Intervjuerna transkriberades och analyserades med den kvalitativa metoden, och sammanfattades sedan enligt indelning i fyra teman – producentens ansvar, stereotyper och igenkänning, förändring då och nu, och berättelsens uppbyggnad.
Svaret på forskningsfrågan är att producenten kan påverka representation i finländsk media genom målgruppsanalys, samarbete med finansiär och distributör, och genom att fundera på representationsfrågan direkt då ett projekt börjar utarbetas, vare sig det är genom ett färdigt manus eller genom att optionera böcker eller observera fenomen och göra dem till en produktion. Producenten har ansvar, men ansvaret är också fördelat mellan andra inblandade i skapelseprocessen. Det är viktigt för producenten att vara medveten om makten i representation, och att sträva till att använda den av rätta orsaker. Attityder som hittills har lett till dålig representation av marginaliserade grupper kan förändras genom uppfostran och medveten strävan till förändring.
The study asks how producers of Finnish media (film, television, and documentary) can affect and ensure the existence of representation of women in the media they produce. The intention is to chart and clarify how the responsibility for assuring representation is shared between the producers and the other influencers in the media creation process. Representation here means the image of a person in media – which is to say, does the me-dia content show varied types of people? Representation is an important aspect of media studies, both between genders and when it comes to other marginalized groups. The level of representation of women in Finnish media is very low, even if it is slowly
increasing.
The study was done by interviewing four Finnish producers: Leila Lyytikäinen, Annika Sucksdorff, Kaarle Aho, and Maarit Lalli. The producers all work in the Helsinki area, have produced a variety of media, and were available for interviews. The interviews were transcribed and analysed using the qualitative method, and were then summarized by sep-aration into four themes – the responsibility of the producer, stereotypes and reconnais-sance, development then and now, and building the story.
The answer to the research question is that the producer can affect representation in Finn-ish media through target audience analysis, collaboration with financiers and distributors, and by considering the matter of representation straight away when starting a new pro-ject, be it through a finished script or by optioning books or observing cultural phenome-non. The producer has a responsibility, but the responsibility is also shared between the others who are involved in the process of creating media. It is important for the producer to be aware of the power of representation, and to attempt to use that power for the right reasons. Attitudes that until now have led to lacking representation of marginalized groups can be changed through education and a conscious desire for change.
Kokoelmat