Profix-Användarmanual för Ab Lovisa Färghandel
Hällfors, Jonas (2010)
---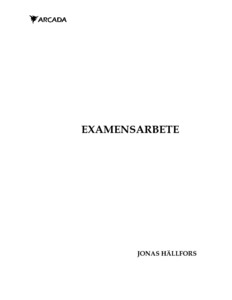 Arcada - Nylands svenska yrkeshögskola
2010
All rights reserved
Julkaisun pysyvä osoite on
http://urn.fi/URN:NBN:fi:amk-201004266888
Tiivistelmä
Syftet med examensarbetet är att, för Ab Lovisa Färghandel, bygga upp en användarmanual som stöder ibruktagandet av Profix-affärssystemet. Teoridelen omfattar allmän information om affärssystem och riktlinjer över hur en manual byggs upp. Den empiriska studien grundar sig på deltagande observation i företaget och en fokusgruppintervju med personalen.
På basis av den information som framkom ur empiriska studien, byggs manualen upp. Med hjälp av denna kan personalen lätt söka fram lösningar till komplikationer som uppstår vid användningen av affärssystemet. Manualens fungerbarhet prövas genom två olika scenarier.
Största problemet med skapandet av en manual är att åstadkomma en attraktiv design och samtidigt göra informationen lättförstådd. Därför användes bilder, klara färger och luftig text med stor font. I framtiden kan företaget själv göra ändringar och uppdateringar i manualen eftersom den är skräddarsydd enligt företagets behov och önskemål.
The purpose of this thesis is to construct a user manual that assists the use of the Profix-ERP System in Ab Lovisa Färghandel. The theory consists of general information about ERP Systems and guidelines for creating a user manual. The empiric part of this study is based on a focus group interview and participant observation.
With the information retrieved, from the empiric study, the user manual was built. By using this manual the staff can easily find support to their work with the ERP system. The functionality of the manual was proven by two scenario-tests.
The biggest problem in assembling a user manual is to achieve an attractive design that also contains clear information. With this in mind pictures, bright colors and volymous text with a big font was used. Because the manual is tailored for the company's needs and wishes, changes and updates can be made in the future.
Kokoelmat