Språkutveckling som en kontinuerligt pågående process : En kvalitativ undersökning om hur man stöder barns språkutveckling i daghemmet
Knutar, Daniela (2017)
---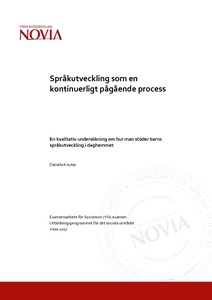 Yrkeshögskolan Novia
2017
All rights reserved
Julkaisun pysyvä osoite on
https://urn.fi/URN:NBN:fi:amk-201705229347
Tiivistelmä
Syftet med detta examensarbete är att undersöka hur man stöder barns språkutveckling i svenska daghem i Österbotten, vilka metoder och arbetssätt man använder sig av, varför man använder dessa metoder, om arbetet med barns språkutveckling i daghemmen är genomtänkt, välplanerat och i fokus, samt om det finns stora skillnader daghemmen emellan. Undersökningen genomfördes med hjälp av kvalitativa intervjuer med fyra utbildade barnträdgårdslärare som respondenter.
I det insamlade materialet framkom att respondenterna använder sig av metoderna språklust och TAKK (tecken som alternativ och kompletterande kommunikation) p.g.a. intresse och barngruppens behov. Även andra metoder som stimulerar språket på olika sätt används, t.ex. Kaninhistorier, aktiv hörförståelse och korsrörelser, samt vardagliga metoder såsom berättelser, rim och ramsor, bokläsning, sagotering, sånger, munmotorik, upprepningar, härma ljud, leka med språk, spel o.s.v.
Min slutsats är att det kan vara svårt att avgränsa specifika metoder som används för att utveckla språket, eftersom språket är närvarande hela tiden i daghemsmiljön, och utvecklas i allt man gör. Respondenterna hade alla funderat igenom och planerat hur de kan stöda barnens språkutveckling, och alla hade ganska liknande tankesätt men använde sig av olika metoder och arbetssätt för att ta sig dit. Resultatet av undersökningen är en inblick i hur olika daghem jobbar för att stöda barnens språkutveckling på ett bra sätt.
The purpose of this thesis is to explore how children's language development is supported in Swedish daycare centers in Ostrobothnia, which methods and ways of working are used, why these methods are used, if the work with children's language development in the daycare centers are thought through, well planned and focused on, and if there are big differences between the daycare centers. The investigation was performed by qualitative interviews with four educated kindergarten teachers as respondents.
The collected material showed that the respondents use the methods språklust and TAKK (signs as alternative and complementary communication) because of interest and the needs of the children's group. Also other methods which stimulate language in different ways are used, for example Kaninhistorier, active listening comprehension and cross movements, as well as everyday methods such as stories, rhymes and chants, book reading, sagotering, songs, mouth motricity, repeats, imitate sounds, play with language, games and so on.
My conclusion is that it can be hard to define specific methods that are used to develop language, since the language is present constantly in the daycare center environment, and is developing in everything you do. The respondents have all thought through and planned how to support children's language development, and all had quite similar ways of thinking but used different methods and ways of working to get there. The result of the investigation is an insight in how various daycare centers work to support children's language development in an adequate way.
Kokoelmat