Självkänsla hos daghemsbarn : En kvalitativ undersökning om hur barnträdgårdslärare bekräftar och stärker barnets självkänsla på daghem
Fant, Sofia (2017)
---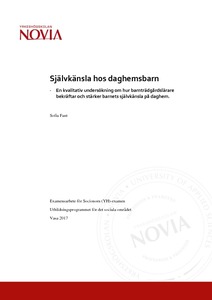 Yrkeshögskolan Novia
2017
All rights reserved
Julkaisun pysyvä osoite on
https://urn.fi/URN:NBN:fi:amk-201705188929
Tiivistelmä
Syftet med detta examensarbete är att ta reda på hur en barnträdgårdslärare kan stärka och bekräfta barnets självkänsla på daghem. Vilken syn och uppfattning finns det om självkänslan på daghem och hur kan man stödja barnen på bästa sätt när det gäller självkänslan?
I detta examensarbete har jag genom litteratur tagit fram vad självkänsla är, men även olika definitioner kring självkänslan och hur miljön runt om kan påverka självkänslan hos barnet. I intervjuerna som blev gjorda framkom det även olika arbetssätt och metoder man kan använda sig av, men även barnträdgårdslärarens definition av självkänslan och vad det innebär på daghemmen.
Resultatet av intervjun visar att självkänslan är grunden för barnet och att självförtroendet kan påverkas därefter. Tyngdpunkter som framkommer är trygghet och att se det enskilda barnet, även samarbetet mellan vuxna och barn är a och o i arbetet med självkänslan för barn på daghem.
The purpose of this thesis is to find out how a nursery teacher can strengthen and confirm the child's self-esteem in day care centers. What view and perception is there about self-esteem in day care centers and how can you best support the children regarding their self-esteem?
In this master's thesis, I have through literature produced what self-esteem is, different definitions of self-esteem and how the surrounding environment affects self-esteem of the child. In the interviews that were done, it also appeared that there were different working methods and methods that can be used, but also the definition of self-esteem's perception of the children and what it means in day care centers.
The result of the qualitative interviews shows that self-esteem is the basis for the child and that self-confidence can be affected accordingly. Concerns that emerge are safety and "seeing" the individual child, even the cooperation between adults and children is essential when it comes to the work of self-esteem for children in day care centers.
Kokoelmat