Marknadsföringsguiden- ett verktyg för Sjöberg Constructions marknadsföring
Wickström, Sofia; Ekholm, Alexandra (2017)
---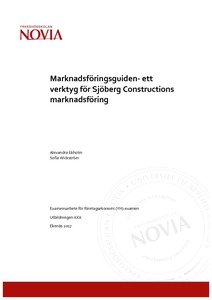 Wickström, Sofia
Ekholm, Alexandra
Yrkeshögskolan Novia
2017
All rights reserved
Julkaisun pysyvä osoite on
http://urn.fi/URN:NBN:fi:amk-201705249928
Tiivistelmä
I oktober 2016 grundades enmansföretaget Sjöberg Construction som är uppdragsgivare för detta arbete. Sjöberg Construction är ett allt-i-allo företag med betoning på bygg och svets. Företaget vill speciellt fokusera på att sälja byggtjänster åt kunder i åldern 25-55 bosatta i Ekenäs, Raseborg. Det här arbetet har därför avgränsats till denna målgrupp.
Syftet med det här arbetet är att med hjälp av en marknadsundersökning samt teori skapa en marknadsföringsguide för Sjöberg Construction. För att uppnå syftet har vi analyserat den givna målgruppens åsikter kring marknadsföring i byggföretag.
Den teoretiska delen i detta arbete består av teori kring tjänster, relationsmarknadsföring, marknadsföring ur ett serviceperspektiv, marknadsföringsmixen, marknadskommunikation, marknadsföringskanaler och marknadsundersökningar.
Den empiriska delen är en marknadsundersökning och en marknadsföringsguide.
Sjöberg Construction, who is the client of this report, was founded in October 2016. Sjöberg Constuction is an allaround company with emphasis on construction and welding. The company especially wants to focus on selling constructionservices to customers in the age group 25-55 years, living in Ekenäs, Raseborg. This work is therefore limited to this target group.
The purpose of this work is to create a marketing guide for Sjöberg Construction, based on market research and theory. In order to achieve this, we have analyzed the target group ́s opinions about marketing in construction companies.
The theoretical part of this work consists of theory of services, relationship marketing, service-oriented marketing, the marketing mix, communication, marketing channels and a market research.
The empirical part is a market research and a marketing guide.
Kokoelmat