Effekten av kemisk ogräsbekämpning på ogräsens och vårkornets biomassa
Långgård, Jens (2017)
---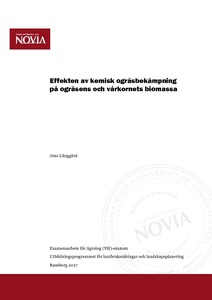 Yrkeshögskolan Novia
2017
All rights reserved
Julkaisun pysyvä osoite on
http://urn.fi/URN:NBN:fi:amk-201705239781
Tiivistelmä
Detta arbete handlar om hur kemisk ogräsbekämpning påverkar ogräsens och grödans biomassa. Om ogräsförekomsten överstiger en viss nivå medför ogräsens konkurrens med grödan att skörden minskar. Dessutom kan skördearbetet försvåras och kvaliteten på skörden försämras.
Syftet med detta försök är att undersöka effekten av utelämnad bekämpning på ogräsförekomsten och grödans avkastning. Hypotesen är att då ogrästrycket är lågt som följd av årligen återkommandebekämpning kan spannmålsgrödor med bra konkurrenskraft hävda sig väl gentemot ogräsen. Försöket bestod av två försöksled, ett herbicidbehandlat led och ett icke herbicidbehandlat led. Dessa led upprepades fyra gånger. Ogräsförekomsten analyserades och ogräs- samt kornbiomassan bestämdes.
Herbicidbehandling gav en skördeökning på 2,87 %. Eftersom skördeökningen måste vägas mot de kostnader som en bekämpning medför, kan man överväga ifall ogräsbekämpning alltid behövs varje säsong.
This work deals with the effects of chemical weed control on weed and crop biomass. Above a certain level, weed occurrence implies lower crop yield. Weed occurrence can complicate the harvest and impair the quality of the yield.
The purpose of this study was to investigate the effect of omitted herbicide application on weed occurrence and crop yields. The hypothesis was that when weed pressure is low as a result of annually recurrent control cereal crops with good competitiveness can do without weed control. The study consisted of two treatments, herbicide application and omitted herbicide application. There were four replications per treatment. Weed occurrence was analyzed and weed- and crop biomass were determined.
Herbicide application resulted in a yield increase of 2.87 %. Since the yield increase has to be related to the costs incurred by herbicide application, it can be considered whether annual weed control generally pays off.
Kokoelmat