Utvecklandet av en ny webbsida för volleyboll turneringen Tour de Ekenäs : En Wordpress sida med följsam webbdesign och funktionalitet i fokus.
Pulkkinen, Jimmy (2017)
---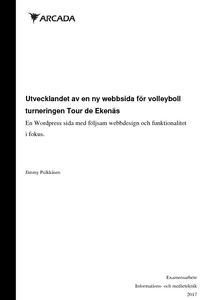 Yrkeshögskolan Arcada
2017
All rights reserved
Julkaisun pysyvä osoite on
http://urn.fi/URN:NBN:fi:amk-2017052410117
Tiivistelmä
Tour de Ekenäs är en årligen återkommande beachvolleyboll turnering som äger rum varje sommar i Ekenäs. Sedan start har turneringen ägt en webbsida på domänen www.tourdeekenas.fi. Anmälningarna till turneringen har alltid genomförts via webbsidan. På den gamla webbsidan skickades anmälningarna till arrangörernas e-postadresser från vilka de samlat informationen manuellt till en Excel tabell. Startsidan för turneringen har presenterat all väsentlig informationen, samt ett bildgalleri från det föregående året. Webbsidan var endast tillgänglig på svenska vilket inte var idealt eftersom Finland är et tvåspråkigt land, med finska och svenska som officiella språk. Sommaren 2017 förnyas konceptet eftersom det ordnas två turneringar, Tour de Ekenäs och Tour de Ekenäs Beach 2.0. I samband med förnyandet av konceptet bestämdes förnyandet av webbsidan eftersom den gamla webbsidan inte motsvarade behovet eller dagens standard. Förväntningarna för den nya webbsidan är att den ska bestå av en följsam webbdesign, automatiserad turneringstabell, automatiserad anmälningslista och webbsidan bör vara tillgänglig på finska och svenska. Arbetet koncentrerar sig mycket på metoder som utveckling av en prototyp, systemutveckling, programmering, skapandet av en slutgiltig produkt samt litteraturstudier som stöder processen. I arbetet behandlas innehållshanteringssystem, installation av Wordpress, teman samt insticksprogram. Sidans uppbyggnad och funktionalitet som möjliggör de automatiserade turneringstabellerna och anmälningslistorna är också i fokus. Till slut presenteras resultatet i form av en ny webbsida som motsvarar förväntningarna. Webbsidan är skapad med hjälp av innehållshanteringssystemet Wordpress och som tema används Sydney skapad av Athemes. Olika insticksprogram jämförs för att uppnå bästa resultat som motsvarar de önskade funktionaliteterna.
Tour de Ekenäs is an annual beach volleyball tournament organized every summer in Ekenäs. The website for the tournament has been available on the domain www.tourdeekenas.fi since the first organized tournament. The registrations for the tournament has been submitted through a contact form on the website. Submitted registra-tions were forwarded to the organizers email addresses, from where the information was gathered manually to Excel tables. The homepage of the website was the only page to visit, containing all essential information. An image gallery from the previous tournament was also presented on the front page. The webpage was only available in Swedish which is not ideal since Finland is a bilingual country with Finnish and Swedish as official languages. By the summer of 2017 Tour de Ekenäs will renew their concept by adding a tournament called Tour de Ekenäs Beach 2.0. In association with the renewal of the concept, a decision was made to renew the website since the old webpage did not meet the needs nor the standard of webpages to date. The new website is expected to be responsive and have functionalities that enables creation of automated group tables and automated tables for registered teams. Swedish and Finnish language versions of the webpage is a requirement. The methods used are prototyping, testing, system development, programming and literature studies that support the development process. This thesis covers content management systems, the installation process of WordPress, themes and plugins. The focus is on the development process, the webpage structure and the functionalities that provides an automated tournament table and an automated table that gathers all information of the registered teams. The result presented is a new website which meets the expectations and requirements. The webpage is created with WordPress and the theme used is Sydney created by Athemes. Various plugins are compared to find the best solutions that results in functionalities that meets the expectations.
Kokoelmat