Prästkulla gård - En historiskt inspirerad trädgård
Brunström, Matilda (2017)
---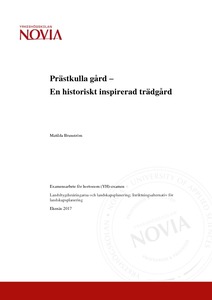 Yrkeshögskolan Novia
2017
All rights reserved
Julkaisun pysyvä osoite on
https://urn.fi/URN:NBN:fi:amk-2017052510233
Tiivistelmä
Prästkulla gård är ett gammalt frälsesäteri från medeltiden och en av de äldsta jordegendomarna i Nyland. Gårdens nuvarande utformning och tillhörande byggnader är uppförda under slutet av 1700-talet och är välbevarade exemplar av såväl arkitektur som trädgårdsuppbyggnad.
Gårdscentrumet är planerat efter Karl Wijnblads modellbok men hann aldrig förverkligas i sin helhet p.g.a. att gårdens ägare major J.R.Taube avled i förtid. Trädgården är mäktig och har sedan länge bestått av fyra hektar trädgård och fem hektar engelsk park.
Beställaren för arbetet över Prästkulla gård har önskat en trädgårdsplanering vilken förstärker gårdens karaktär. Syftet med arbetet har således varit att utforma ett planeringsförslag för gården som skulle återge trädgården sin forna glans. Beställaren har även önskat en lättskött och barnvänlig trädgård i 1800-tals stil som innehåller gammaldags växter.
Examensarbetets teoridel behandlar historien om trädgårdskonsten och gammaldags trädgårdselement. Med litteraturstudierna som grund har gården planerats att efterliknar en trädgård från 1800-talet, med en modern twist.
Prästkulla Manor is an old manor from the Middle Ages and one of the oldest estates in Nyland. The manors current design and associated buildings where built in the late 1800s and is well-preserved specimens of architecture and garden constructions.
The center of the manor are planned by Karl Wijnblads modeling book but was never implemented in its entirety because manors owner Major J.R.Taube passed away prematurely. The garden is mighty and has long since consisted of four hectares of garden and five hectares of English garden.
The ordered for the work of Prästkulla Manor have wished for a garden design witch enhances the manor character. The aim of the work has therefor been to design a planning proposal manor that would restore the garden to its former glory. The ordered also wished for an easily maintained and child-friendly garden in the style of 1900s century which contains old-fashioned plants.
The thesis theoretical part tells about the history of gardens and old fashioned elements you can find in them. The literature studies is the basis for how the manor have been planned to imitate a garden from the 1900s, with a modern twist.
Kokoelmat