Animerad storytelling : En jämförelseanalys samt en fallstudie på en animerad film för Project Liv
Grönroos, Gabriella (2017)
---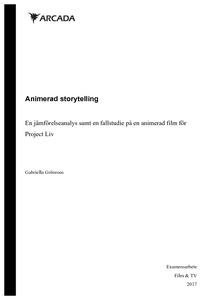 Yrkeshögskolan Arcada
2017
All rights reserved
Julkaisun pysyvä osoite on
http://urn.fi/URN:NBN:fi:amk-2017052810673
Tiivistelmä
Syftet med mitt examensarbete är att analysera boken "Animated Storytelling" skriven av Liz Blazer och att ta reda på om hennes vägledande passar nybörjaranimerare eller inte. Jag och min klasskompis Julia Glasberg har baserat hela vår animerade film, som vi gjort för organisationen Project Liv, på Blazers råd. Jag ger personliga åsikter och reflektioner kring Blazers bok samt berättar om vad andra experter i branschen säger jämfört med henne. Detta arbete är således både en jämförelseanalys samt en fallstudie. Efter mitt inledande kapitel där jag presenterar mitt arbete har jag kort samlat lite histo-ria kring storytelling och animationer, samt Project Liv som organisation. Efter detta kommer min huvudsakliga analys där jag kapitel för kapitel refererar Blazers bok, ger egna reflektioner kring Blazers råd baserade på vår animerade film och slutligen jämför Blazers ord med andra experters. Avslutningsvis berättar jag vad jag kommit fram till och hur väl Blazers bok passar nybörjaranimerare.
Min och Julias film för Project Liv kan man se på Project Livs Youtube-kanal: https://www.youtube.com/watch?v=8_SKihBfaf8
The purpose of my thesis is to analyze the book "Animated Storytelling" written by Liz Blazer, and to find out if her guidance suits a beginner animator or not. Me and my classmate Julia Glasberg have based our whole animated video, which we made for the organisation Project Liv, on Blazer's pieces of advice. I give my personal opinions and reflections on Blazer's book as well as write about what other experts in the field say compared to her. This is therefore both a comparative analysis as well as a case study. After my introductory chapter in which I present my work, I've gathered some history concerning storytelling, animation and the organisation Project Liv. This is followed by my main analysis in which I chapter by chapter cover Blazer's book, give my own re-flections on Blazer's advice based on our animated film and finally I compare Blazer's words to those of other experts. In the end I talk about my results and how well Blazer's book suits a beginner animator.
The video me and Julia made for Project Liv can be found att the Youtube-channel of Project Liv: https://www.youtube.com/watch?v=8_SKihBfaf8
Kokoelmat