A case study in optimisation of injection moulding using recycled HDPE
Gripenwaldt, Antonia (2017)
---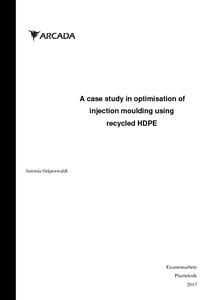 Yrkeshögskolan Arcada
2017
All rights reserved
Julkaisun pysyvä osoite on
http://urn.fi/URN:NBN:fi:amk-2017052910763
Tiivistelmä
Syftet med det här slutarbetet är att få mera information och kunskap om att välja parameter
inställningar för formsprutning. Teoridelen omfattar formsprutnings processen och
egenskaperna av det använda materialet. Metoder for optimering samt metoder för mätning
av kvalitet undersöks. För att resultatet av den verkliga optimeringen skall kunna
jämföras med en simulation omfattas också funktionen samt resultat tolkningen för simulation
av formsprutning. En provformsprutning gjordes för att få startvärden. Ett optimerings
experiment utfördes på fem nivåer med fem kontroll faktorer. Massa, area och hållfasthet
valdes som kvalitetsfaktorer. Taguchi S/N förhållanden räknades ut, nominellt den
bästa valdes för area och störst den bästa för massa och hållfasthet. En en- vägs ANOVA
gjordes för varje parameter för massa, area och hålfasthetsmätningarna. Simulationerna
gjordes med både Autodesk Moldflow och Solidworks Plastics. Båda simulationerna
hade överraskande lika resultat för övergångstryck (ungefär 50 MPa) och fyllningstid (3
sekunder). De flesta av simulationsresultaten var givna på så olika sätt att det inte går att
jämföra dem. Flödesfronts temperaturen hade den största skillnaden. Att använda hållfasthet
som en kvalitetsfaktor för återvunnet HDPE plast för ANOVA analys fungerade
inte eftersom materialet var så svagt att ingen av faktorerna kunde värderas som betydelsefull.
För en smälttemperatur på 220 °C hade både kyl tid och eftertryckstid nära resultat
för både optimeringen och simulationerna.
The purpose of this thesis is to learn more about how to choose injection moulding parameters.
Theory will cover the process of injection moulding and describe the properties of
the material used. Methods for optimisation and methods of measuring the quality of the
product isstudied. The result of the practical optimisation is compared to results of software
simulations. The function and result interpretation of the simulations of injection moulding
are covered as well. A test injection moulding was done to gain some starting parameters.
An optimisation experiment was done using five control factors on five levels. Mass, area
and tensile strength were chosen as quality factors. Taguchi S/N ratios were calculated,
nominal the best was chosen for the surface area measurements and larger the better was
chosen for mass and tensile measurements. A one-way ANOVA was done for each of the
parameters for mass, area and tensile quality measurements. Simulations were done using
both Autodesk Moldflow and Solidworks Plastics. Both simulations had surprisingly close
results in Switchover pressure (approximately 50 MPa) and fill time (3 seconds). A lot of
the simulation results were expressed in quite different ways and are therefore hard to compare
with each other. The flow front temperature had the largest difference. The only thing
that did not work was the usage of tensile strength as a quality factor for the recycled HDPE
in the ANOVA analysis as the material was so weak that no one of the factors could be
determined as significant. At a 220°C melt temperature, both cooling time and holding time
had similar results for both the optimisation and simulation.
Kokoelmat