Huom! Theseus-tuen yhteydenotto on poissa käytöstä teknisten huoltotöiden takia 11.–15.10.2019. Ongelmatilanteessa ota yhteyttä oman ammattikorkeakoulun kirjastoon. Attention! Theseus Support e-mail is out of use 11.–15.10.2019. In case of problems please contact your own UAS Library. OBS! Theseus Support e-post är ur användning 11.–15.10.2019. Om du har problem, vänligen kontakta ditt eget UAS-bibliotek.
Sjukhussammanslagning - en kvalitativ analys av upplevelser bland svenskspråkiga individer
Herrgård, Ida (2017)
---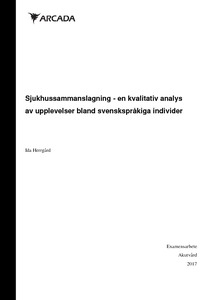 Yrkeshögskolan Arcada
2017
All rights reserved
Julkaisun pysyvä osoite on
http://urn.fi/URN:NBN:fi:amk-2017052910860
Tiivistelmä
Sammandrag:
I Finland genomförs som bäst en social och hälsovårdsreform. I och med reformen kommer specialsjukvårdsjourerna att centraliseras till 12 sjukhus. Vasa centralsjukhus är inte ett av dessa 12 sjukhus, och förlorar därmed sin fulljourstatus. Eftersom en stor del av invånarna i Vasaregionen är svensktalande har heta diskussioner i lokaltidningarna väckts kring hur servicen på svenska kommer att fungera då delar av vården flyttas till finskspråkiga Seinäjoki.
Syftet med denna studie är att analysera hur de svenskspråkiga individerna i Vasaregionen upplever sjukhussammanslagningen. Den specifika forskningsfrågan lyder:
• Hur upplever den svenskspråkiga minoriteten sjukhussammanslagningen i Vasa regionen?
Metoden som används i studien är kvalitativ textanalys. Ledare och insändare i lokaltidningen Vasabladet har analyserats och reflektioner mot tidigare forskning har gjorts. Sammanlagt 65 Vasablad har granskats. Dessa 65 har efter analys reducerats till 29 stycken. Ur dessa 29 Vasablad används 35 insändare i resultatet.
I resultatet framkommer att man via insändare uppmanar folk att hålla ihop – att man är starkare tillsammans. Samtidigt skrivs om att det ännu finns hopp för framtiden, när det gäller svenskan och fulljouren. I insändarna framkommer även mycket känsla av diskriminering och det tas upp om rättigheter till service på svenska
Abstract:
Social and health care services is currently going through a reform in Finland. Through the reform, special emergency care will be concentrated to 12 hospitals. Vaasa Central Hospital is not one of these 12 hospitals, and thereby it loses its status as a complete emergency care hospital. Since a large share of the residents in the Vaasa region are Swedish-speaking, hot discussions have started in the local press regarding how service in Swedish can be guaranteed after a part of the health care is moved to the Finnish-speaking Seinäjoki.
The aim of this study is to analyze how Swedish speaking individuals experience the hospital merger in Vaasa region. The specific question of the study is:
• How is the Swedish speaking minority experiencing the hospital merger in the region of Vaasa?
The method used in this study is qualitative text analysis. Letters to the editor of the daily local newspaper Vasabladet were analyzed and reflected against previous research. A total of 65 Vasablad were reviewed. The amount of papers were reduced to 29 after analysis. A total of 35 analyzed letters are found in these 29 letters.
The result shows that it calls on the Swedish speaking individuals to keep together and that there is still hope for the future, regarding the Swedish language and the special emergency care. The result also shows that some are experiencing discrimination when they feel they will not get care in Swedish after the hospital merger.
Kokoelmat