Theseusta huolletaan. Kirjautuminen on estetty ja järjestelmän uudelleenindeksoinnista johtuen arkistossa näkyy alkuun vähemmän töitä kuin siellä oikeasti on.
Den preoperativa handdesinfektionen : En systematisk litteraturstudie ur ett evidensperspektiv
Eriksson, Mikaela (2010)
---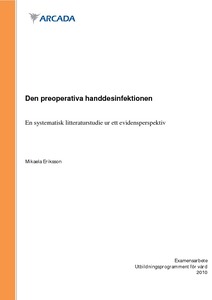 Arcada - Nylands svenska yrkeshögskola
2010
All rights reserved
Julkaisun pysyvä osoite on
http://urn.fi/URN:NBN:fi:amk-201004287105
Tiivistelmä
Sammandrag:
Omkring 2-6% av alla operationer leder till postoperativa infektioner. Postoperativa infektioner skapar onödigt lidande för patienten, samt är den enskilt största orsaken till mortaliteten inom kirurgin. Kostnader till följd av postoperativa infektioner beräknas enbart i Finland uppgå till 100-200 miljoner euro årligen. Den preoperativa handdesinfektionen är ett i ledet av förbyggande åtgärder som bör vidtas för att minska risken att postopertiva infekioner uppstår.
Syftet med denna studie är att, enligt den nyaste forskningen lyfta fram det mest evidenta vad gäller utförandet av den preopertiva handdesinfektionen. Det empiriska materialet, som består av 15 forskningsartiklar, har analyserats med stöd av tre preciserade frågeställningar: Vad är effektivt vad gäller utförandet av den preoperativa handdesinfektionen? Vilken är den optimala durationen vid preoperativ handdesinfektion? samt Vad är hud- och användarvänligt? Katie Erikssons evidensteori samt teorin om ett evidensbaserat arbetssätt inom vården utgör studiens teoretiska referensram.
Artiklarna har valts ut genom en systematisk sökning i olika databaser. Forskningarna har analyserats med hjälp av en kvalitativ induktiv innehållsanalys enligt Kylmäs (2008) och Kyngäs & Vanhanens (1999) modell av innehållsanalysen.
Utgående från resultatet har följande rekommendationer för utförandet av den preoperativa handdesinfektionen formulerats. Alkoholbaserade handdesinfektionsmedel är att föredra framom antiseptiska tvålar. Handdesinfektionsmedlet Sterillium är effektivt redan vid en applikationstid på 1,5 minuter. Borste skall inte användas varken för rengöring av huden eller naglarna. En icke-antiseptisk handtvätt skall inte ingå som en del av den preoperativa handdesinfektionen då den utförs med ett alkoholbaserat handdesinfektionsmedel. Om en antiseptiseptisk tvål används skall Hibiscrub väljas.
About 2-6 % of all surgical operations lead to postoperative infections. Postoperative infections cause a great amount of unnecessary suffering for patients. They are the single greatest cause of mortality in surgery. The yearly costs due to postoperative infections are estimated to 100-200 million Euros in Finland only. Preoperative hand disinfection is one key measure to reduce the risk of surgical site infections.
The purpose of this study is to examine what the most evident preoperative hand disinfection is according to the most recent research. The empirical material, which is consist of 15 scientific articles, has been analyzed based on the following three research questions: What is most effective regarding preoperative hand disinfection? What is the optimal duration in preoperative hand disinfection? and What practices is most skin tolerant and user acceptable? The theoretic framework of this study is the theory of evidence by Katie Eriksson and the theory of evidenced-based practice in care.
The 15 scientific articles have been selected through a systematic data collection in different scientific databases. The articles have been analyzed with qualitative inductive content analysis according to the model of Kylmä (2008), Kyngäs & Vanhanen (1999).
Based on the results the following of recommendations for preoperative hand disinfection has been formulated. Alcohol-based hand rub is preferred over hand scrub. The hand rub Sterillium is efficient already at an application time of 1,5 minutes. A brush should not be used neither for cleaning the skin nor the nails. Non-antiseptic hand wash should not be a part of the preoperative hand disinfection when it is conducted with an alcohol based hand rub. If a medicated soap is used Hibiscrub is perferred.
Kokoelmat