"Att växa sig stark ur svårigheter" : En kvalitativ studie om flyktingars användning av copingresurser vid hantering av psykiska påfrestningar
Westerlund, Sandra; Österlund, Sara (2017)
---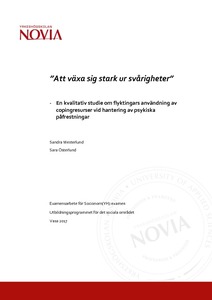 Westerlund, Sandra
Österlund, Sara
Yrkeshögskolan Novia
2017
All rights reserved
Julkaisun pysyvä osoite on
http://urn.fi/URN:NBN:fi:amk-2017053111533
Tiivistelmä
Syftet med vårt examensarbete är att undersöka hur flyktingar använder sig av sina egna
copingresurser för att hantera psykisk påfrestning och för att anpassa sig
till den nya livssituationen. Examensarbetets centrala frågeställningar är: 1) Hurudana
copingresurser och copingstrategier använder flyktingar sig av för att hantera och ge mening till
sina livserfarenheter? och 2) Hur hanterar flyktingar den psykiska påfrestning som flykten
har fört med sig?
I den teoretiska delen definieras flyktingar och vi förklarar mera ingående om den
pågående globala flyktingkrisen och allmänt om hur en asylansökan går till. Vidare i
examensarbetet redogör vi för olika faktorer som påverkar psykisk hälsa, krisens olika
betydelser samt beskriver olika copingresurser och copingstrategier som människan använder
sig av.
Undersökningen utfördes genom kvalitativa intervjuer med fyra flyktingar som har anlänt
till Finland under den senaste flyktingkrisen. Undersökningen visade att gemensamt för
dessa flyktingar är att de bär med sig smärtsamma minnen från krigen i sina hemländer
och från flykten till Europa men att de ändå har en positiv syn på framtiden. Samtliga
flyktingar upplever att de försöker bearbeta de psykiska påfrestningarna med hjälp av
stödet från varandra men också genom att ha meningsfulla fritidssysselsättningar.
The purpose of our thesis is to examine how refugees are using their own coping resources
and strategies in order to handle psychological distress and adjust to their new life
situation. The central questions of this thesis are: 1) What kind of coping resources and
strategies do refugees use to manage and give meaning to their life experiences? and 2)
How are refugees managing the psychological distress that the fleeing has caused them?
The theoretical part defines refugees and we explain in a more detailed way about the
current global refugee crisis and how an asylum application works. Furthermore, we
represent different factors that affects the mental health, different meanings of the crisis
and the various coping resources that humans use.
The study was performed through qualitative interviews with four refugees who have
arrived in Finland during the latest refugee crisis. Our result from this study shows that
refugees are still carrying very painful memories from the war but also from their journey
to Europe. Despite this, they're still having a positive outlook on their future. All refugees
are currently experiencing a time of processing the psychological distress that they have
been exposed to. With the help and support from each other but also by having meaningful
hobbys they are processing the traumatic experiences.
Kokoelmat