Medicinsk cannabis : En litteraturstudie om användningen av medicinsk cannabis inom cancervården
Nygård, Sofia (2017)
---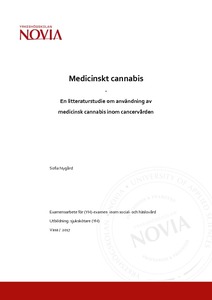 Yrkeshögskolan Novia
2017
All rights reserved
Julkaisun pysyvä osoite on
http://urn.fi/URN:NBN:fi:amk-2017060212153
Tiivistelmä
Detta examensarbete handlar om användningen av medicinsk cannabis inom cancervården. Syftet med examensarbetet var att undersöka vilken roll cannabis kan ha i cancervården. Frågeställningarna var: Hur upplever patienten användning av medicinsk cannabis? Vilken hjälp kan patienten väntas få av medicinsk cannabis? vilka attityder har vårdpersonal mot medicinsk cannabis?
Som utgångsteorier i denna studie användes Ruland och Moors teori om ett fridfullt slut på livet samt Erikssons teori om lidande. Studien är en kvalitativ litteraturstudie. Artiklar som ingår i studien är både kvalitativa och kvantitativa, totalt 13 artiklar ingår. Resultatet från artiklarna är dokumenterat och därefter tolkade.
Resultatet indelades i fyra kategorier: Cannabis som symptomlindring, Cannabis som bot, Patienters upplevelser och vårdpersonalens attityder. Som resultat framkom bland annat att medicinsk cannabis fungerar bra som behandling mot illamående och kräkningar men även att det kan ge biverkningar till och med så svår som psykos. Cannabis som bot ligger i startgroparna men har kommit med lovande resultat.
This nursing degree project deals with the use of medical cannabis in cancer care. The purpose of the thesis was to investigate the role of cannabis in cancer care. The questions were: How does the patient experience the use of medical cannabis? What can the patient expect from medical cannabis? Which kind of attitudes does workers in the medical field have against medical cannabis?
As nursing theories in this study, Ruland and Moor's theory about a peaceful end of life and Eriksson's theory of suffering have been used. The study is a qualitative resume. Articles included in the study are both qualitative and quantitative, a total of 13 articles are included. The results of the articles are documented and interpreted.
The results were divided into four categories: Cannabis as a symptom relief, Cannabis as a cure, Patient experiences and the attitudes of healthcare professionals. As a result, among other things, medical cannabis works well as treatment for nausea and vomiting, but also can cause side effects as severe as psychosis. Cannabis as a cure for cancer is just in the beginning but has shown promising results.
Kokoelmat