Brexit: Changing Dynamics of Corporate Financial Risks, Return, and Performance : Case Companies: BP, Royal Bank of Scotland, Marks & Spencer, GlaxoSmithKline, EasyJet
Tarasanski, Pavlos (2017)
---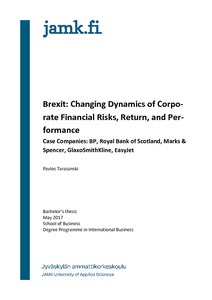 Jyväskylän ammattikorkeakoulu
2017
All rights reserved
Julkaisun pysyvä osoite on
http://urn.fi/URN:NBN:fi:amk-2017061113226
Tiivistelmä
On the 23 of June 2016, as a result of a referendum, the United Kingdom decided to leave
the European Union. Brexit was established as a term, indicating the exit of the United
Kingdom from the European Union.

The objectives were to analyze the way the Brexit vote has affected five different UK multinational
corporations from different sectors in terms of corporate risk exposure, return,
and performance. The companies were: BP, Royal Bank of Scotland, Marks & Spencer,
GlaxoSmithKline, and EasyJet. The most important financial risks of the case companies
were explored, together with implications they face because of the Brexit vote. To measure
the aforementioned effects, three different theories were reviewed: 1) Beta coefficient,
2) Capital Asset Pricing Model (CAPM), 3) Jensen's alpha.

A quantitative approach was adopted and data was collected from stock market databases
and used for calculating incremental beta, incremental CAPM, and incremental Jensen's
alpha for each company. The incremental values represented a percentage change over
two reference periods, before the Brexit vote and after.

The results varied for every company indicating that Brexit vote had different effects on
the industries in which the companies operate. BP and EasyJet were the least affected
companies, while Marks & Spencer was heavily affected. Royal Bank of Scotland faces challenges,
but it cannot be said whether it is because of the Brexit vote or internal management.
GlaxoSmithKline faces great uncertainty because of the industry in which it operates.
The results are limited to the companies in concern, however the methodology can
be applied for further research regarding the effects of Brexit on UK multinationals.
Kokoelmat