The nursing role in postoperative care of neonates : A qualitative literature review
Maher, Daniella (2017)
---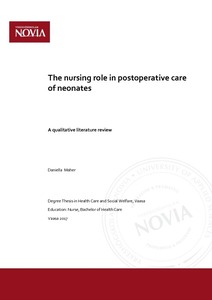 Yrkeshögskolan Novia
2017
All rights reserved
Julkaisun pysyvä osoite on
https://urn.fi/URN:NBN:fi:amk-2017061313434
Tiivistelmä
The aim of the study is to define the nurse's role in the postoperative care of neonatal patients. This should include not only the care of the patient themselves but also the encouragement and support of the parents.
1)What is the nurse's role in post-operative care of neonates?
2)How can the nurse encourage and support the parents?
The method used for the study is a qualitative literature review.
The analysis of the articles reviewed supported the importance of encouragement and support of parents by nurses. They brought forward that the main nursing role in post-operative care of neonates is pain assessment and management.
It is the duty of the nurse to prevent suffering and neglect. The neonate cannot be their own advocate as they cannot communicate that they are in pain. Therefore, the nurse has the responsibility to assess pain and manage it by reducing the frequency of painful procedures and use of both pharmacological and non-pharmacological pain management.
Parents had positive experiences within the NICU when emotional support was shown by nurses listening, comforting, encouraging interaction with the neonate, and giving information both verbally and written.
Syftet med studien är att definiera sjukskötarens roll inom postoperativa vården av neonatala patienter. Detta bör inte enbart omfatta vård av patienten utan även uppmuntran och stöd för föräldrarna.
1)Vilken är sjukskötarens roll inom post-operativa vården av neonatala?
2)Hur kan sjukskötaren uppmuntra och stöda föräldrarna?
Som forskningsmetod används en kvalitativ litteraturstudie.
Analysen av de granskade artiklarna stödde vikten av uppmuntran och stöd för föräldrarna av sjuksköterskor. De framhöll att den huvudsakliga omvårdnadsrollen i postoperativ vård av nyfödda är smärtbedömning och smärtbehandling.
Sjuksköterskans plikt är att förhindra lidande och försummelse. De nyfödda kan inte vara sina egna förespråkare eftersom de inte kan kommunicera att de har ont. Därför har sjuksköterskan ansvaret att bedöma smärtan och hantera den genom att minska frekvensen av smärtsamma förfaranden, detta kan göras genom både farmakologisk och icke-farmakologisk smärtlindring.
Föräldrar hade positiva erfarenheter av intensivvården av nyfödda när emotionellt stöd visades av sjuksköterskor som lyssnade, tröstade, uppmuntrade föräldrarna till interaktion med den nyfödda och gav information både muntligt och skriftligt.
Kokoelmat