Treskiftsarbete och träning : En kvantitativ studie om hur treskiftsarbete påverkar träningen hos vårdare
Holmberg, Kent; Hed, Niclas (2017)
---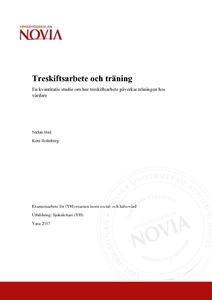 Holmberg, Kent
Hed, Niclas
Yrkeshögskolan Novia
2017
All rights reserved
Julkaisun pysyvä osoite on
http://urn.fi/URN:NBN:fi:amk-2017061813746
Tiivistelmä
Treskiftsarbete har en tendens att påverka vårdpersonalens hälsa och motionsvanor. Syftet med denna studie är undersöka vårdares motionsvanor och hur de påverkas av treskiftsarbete. Undersökning genomfördes med hjälp av enkäter som skickades ut till sex sjukhus avdelningar. Enkäterna besvarades av 70 stycken vårdare med treskiftsarbete. Resultatet framställdes först manuellt och framställdes sedan i pajdiagram med hjälp av dataprogrammet Excel.
Resultatet visar att majoriteten upplever vårdarbetet som fysiskt belastande och att träningen främjar arbetsprestationerna. Vårdare utför regelbunden motionsträning men uppnår inte rekommendationerna för styrketräning. Tiden verkar inte vara en faktor för fysisk inaktivitet men studien visar att man p.g.a. treskiftsarbete ofta missar tidsbestämda gruppträningar. Tiden för när på dygnet man tränar verkar inte ha någon större skillnad bland informanterna. Detta är ett positivt resultat eftersom treskiftsarbete ofta tvingar vårdare att ha oregelbundna träningstider.
Three shiftwork have a tendency to effect healthcare professionals' health and exercise habits. The aim of this study is to examine healthcare professionals exercise habits and how it is affected by three shiftwork. The study was carried out through a survey, which were sent out to six hospital wards. 70 healthcare professionals working in three shift answered the surveys. The analysis was first done manually then presented in pie charts by using the data program Excel.
The result shows that the majority of healthcare professionals experience their work as physically stressful and that exercise promotes their work performance. Healthcare professionals regularly perform stamina exercises but do not achieve the recommendations for weight training. The lack of time does not seem to be a factor for physical inactivity but the study shows that they, due to three shiftwork, often misses out on timed group exercises. The respondents do not seem to have a big difference on which time of the day they exercise. This is a positive result because three shift workers are often forced to keep irregular exercise habits.
Kokoelmat