Bemötande av akut insjuknade äldre personer på hälsostationen
Falck, Charlotta; Storgårds, Helene (2010)
---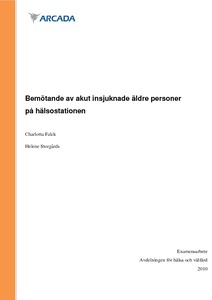 Falck, Charlotta
Storgårds, Helene
Arcada - Nylands svenska yrkeshögskola
2010
All rights reserved
Julkaisun pysyvä osoite on
http://urn.fi/URN:NBN:fi:amk-201005037619
Tiivistelmä
Denna studie är ett beställningsarbete av Esbo stad. Avsikten med denna studie är att ta reda på hur akut insjuknade äldre patienter över 75 år bemöts på hälsostationen ur vårdarnas synvinkel. Syftet är att förbättra kvaliteten på vården. Forskningsfrågorna för denna studie är: Hur bemöts åldringen på hälsostationsjouren? Hur kommunicerar vårdaren med åldringen på hälsostationsjouren?
Den teoretiska referensramen innefattar Katie Erikssons teorier om caritativ vård och lidande samt Kerstin Sivonens teori om mötet. Metoderna för denna studie är temaintervju och observation. Sammanlagt finns det fyra stycken intervjuer och tio stycken observationer.
Resultatet av intervjuerna visade att vårdarna tycker att följande faktorer är viktiga i bemötandet av den äldre patienten; jämställt bemötande, god stresshanteringsförmåga, professionalitet, god kommunikation, omsorg, att bry sig om, tillit, respekt, tålamod och förståelse.
Resultatet av observationerna visade på positiva och negativa faktorer inom både verbala och non-verbala möten med patienter. De viktigaste faktorerna som kom fram i dessa resultat var att patienten inte alltid fick vård på eget modersmål, dock hade vårdarna god kommunikationsförmåga.
This study is commissioned by the town of Espoo. The purpose with this study is to investigate how severely sick elderly patients over 75 years of age are confronted at the emergency department from a nurse´s point of view.
The goal is to improve the quality of service. Research questions are: How is the elderly confronted at the emergency department? How is the nurse communicating with the elderly at the emergency station?
The theoretical frame of reference includes Katie Eriksson's theories about caritative healthcare and suffering and Kerstin Sivonen's theory about confrontation. The me-thods are theme survey and observations. In total there is four interview and ten obser-vations.
The result from the interviews showed that the nurses had the following factors in the confrontation of elderly; equal confrontation, good stress handling, profession, good communication, care, trust, respect, patience and understanding.
The result of the interviews showed positive and negative facts in both verbal and non-verbal confrontation of the patient. The most important things that came up in this study were that the patient always got treated on his/her own mother tongue, hence the nurses had good communication skills.
Kokoelmat