Diabetes typ 2 : En litteraturstudie om egenvård och kostens betydelse efter diagnos
Sjöqvist, Jani (2017)
---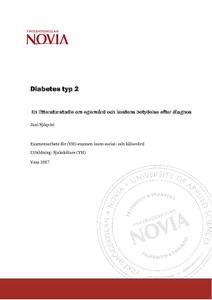 Yrkeshögskolan Novia
2017
All rights reserved
Julkaisun pysyvä osoite on
http://urn.fi/URN:NBN:fi:amk-2017061613650
Tiivistelmä
Syftet med min litteraturstudie är att skapa en förståelse och kunskap om diabetes typ 2 gällande kostvanor och egenvård. Kostens betydelse vid diabetes typ 2 samt dess inverkan på egenvården och vilka svårigheter som kan uppstå vid egenvård.
Som metod för lärdomsprovet användes en systematisk litteraturstudie. Litteraturen och det vetenskapliga är tagna ur ett vetenskapligt perspektiv. Litteraturen är slumpmässigt utvald och är sammanfattad på ett överskådligt sätt. Litteratur som inte ansågs väsentlig valdes bort. Artiklarna är avgränsade från tidigast år 2000 och framåt. De slutsatser som kommer fram i detta lärdomsprov är baserade på väsentlig litteratur som finns i ämnet samt den forskning som finns. Litteraturen och de vetenskapliga artiklarna har valts systematiskt.
Resultatet från litteraturstudien tyder på att kunskap om mat, motion och god relation till vårdaren är en förutsättning för att uppnå en god egenvård. Vårdaren bör aktivt uppmuntra till fysisk aktivitet, göra upp en kostplan och beakta hela människan.
Ytterligare kunskap om olika kostvanor och dess inverkan samt vårdarens syn på hjälp till egenvård kunde vara motiverat till ytterligare forskning.
The purpose of my literature study is to create an understanding and knowledge about diabetes type 2 regarding diet and self-care. The importance of the diet in type 2 diabetes and its impact on self-care and the difficulties that may arise in self-care.
As a method of learning, a systematic literature study was used. The literature and the scientific are taken from a scientific perspective. The literature is randomly selected and is summarized in a clear way. Literature considered essential was chosen. The articles are demarcated from the earliest in 2000 and beyond. The conclusions that emerge in this literacy review are based on essential literature in the subject as well as the research available. The literature and the scientific articles have been chosen systematically.
The result of the literature study indicates that knowledge about food, exercise and good relation to the caregiver is a prerequisite for achieving good self-care. The caregiver should actively encourage physical activity, prepare a diet plan and take into account the whole person.
Further knowledge of different diets and their impact, as well as the healthcare provider's view on self-care, could be justified for further research.
Kokoelmat