Impacts of Immigration on the Economy Case: Afghan immigrants in Finland
Nawroz, Mohammad Taher (2017)
---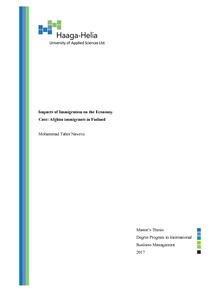 Haaga-Helia ammattikorkeakoulu
2017
All rights reserved
Julkaisun pysyvä osoite on
http://urn.fi/URN:NBN:fi:amk-2017081614385
Tiivistelmä
This study assesses and evaluates the effects of Afghan immigrants on the Finland's economy.
It is plausible that immigration may become highly significant for Finland's economy by resulting in
stronger economic growth. Additionally, it is expected that Finland's economic characteristics are likely
to change as its population ages, and immigration, therefore, can prove to be the solution to fill the vacuum
instigated by this segment when they gradually head into retirement.
Intrinsically, immigrants' economic performance and the outcome is one of the most significant determinants
of the impact they will have on the economy of the receiving country. In Finland, concerns over
immigration explosion are attributed to the mounting sense of social and economic crisis that has
wreaked havoc on the political status quo. The hot debate on the economic impact of immigration has
been polarized, and hence, there is a divergence in opinions. The naysayers or opponents cast doubt on
the positive economic impact of immigration on the host society, especially when a large number of immigrants
are less educated to be qualified for jobs. Contrarily, the proponents of immigration argue that
smaller and geographically isolated nation like Finland may, in fact, benefit from immigration, and this
can be particularly true when Finland population is projected to age fast and hastily in the forthcoming
decades as compared to other Nordic countries, the OECD and the European Union.
For the purposes of this study, the data was acquired from both secondary sources, such as literature reviews
and primary sources like observation and semi-structure interviews. The research choice for this
study was qualitative investigating to assess the economic impact of the Afghan immigrants on Finland
and their contribution to the demographic changes. Moreover, there were some spaces for quantitative
statements determining the number of Afghan immigrants who primarily rely on welfare services for
meeting their basic needs.
To conclude, the outcome of this study revealed that Afghan immigrants would have a positive impact on
demographic changes in Finland, essentially in the long term. However, their economic impact tends to
be negative due to their dependency ratio on the public purse. In other words, Afghan immigrants consume
more in social and welfare services than their fiscal contribution. Hence, the positive economic
impact can be achieved only under the condition of employment, which needs an effective assimilation
strategy. This study proposes recommendations to improve assimilation of Afghan immigrants into the
job market for relaxing the burden on the public finance. With effective management, immigrants can
play a significant role in the economic growth, while addressing the demographic challenges.
Kokoelmat