Hybrid Emergency Response Model : Improving Cyber Situational Awareness
Simola, Jussi; Rajamäki, Jyri (2017)
---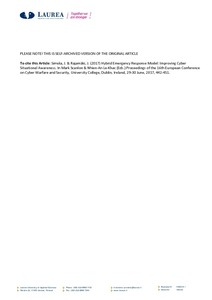 Simola, Jussi
Rajamäki, Jyri
European Conference on Cyber Warfare and Security
2017
Julkaisun pysyvä osoite on
http://urn.fi/URN:ISBN:978-1-911218-44-9
Lähdeviite:
Simola J., Rajamäki J., (2017). Hybrid Emergency Response Model : Improving Cyber Situational Awareness. , European Conference on Cyber Warfare and Security.
URN:ISBN:978-1-911218-44-9
Tiivistelmä
Cyber threats have increased in spite of formal integration in Europe and the world. Therefore, authorities need to respond to growing challenges. As major terror attacks, hybrid warfare and major accidents e.g. in USA, Belgium, Ukraine and France have shown preparation for different kind of threats is challenging. Finnish Public Protection and Disaster Relief (PPDR) authorities and politicians have recognized the importance of a common situational awareness in preparation for the future. Cyber situational awareness is a part of situational awareness which concerns the "cyber" environment. Such situational awareness can be reached, e.g., by using data from IT sensors that can be fed to a data fusion process or be interpreted directly by the decision-maker. This study was conducted on the ground by visiting in four situation and command centers of PPDR services located in Southwestern Finland. The main purpose of the study was to create smart hybrid emergency response -model based on intelligent emergency management system and find out local and state level factors which affect to utilization of system. The aim was also to research the level of preparedness in regional administration including local PPDR departments. The main results can be summarized so that unclear allocation of responsibilities in government departments prevent authorities from fighting together against cyber and physical threats. Responsibilities for developing cybersecurity has also been shared for too many factors. The operational field work of the PPDR authorities should be more standardized and management should be more centralized. Unclear emergency procedures between authorities and lack of co-operation between situation centers with limited data transmission capacity prevent to create common situational awareness. In the future, a common cyber situational awareness is needed for both operating cyber physical system and for emergency and crisis management. PPDR services and decision makers In Finland need a common multifunctional hybrid emergency response-model to be able to prevent various threats until bureaucratic and organizational barriers have been removed. Need for common cyber ecosystem to control crossboarding threats is growing.
Kokoelmat