Financial Ratio Analysis For Case Company X
Pääkkö, Roope (2017)
---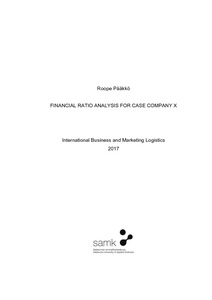 Satakunnan ammattikorkeakoulu
2017
All rights reserved
Julkaisun pysyvä osoite on
https://urn.fi/URN:NBN:fi:amk-2017091215024
Tiivistelmä
This paper describes a financial ratio analysis for case company referred to as X. Two different analysis methods were used for the project; time-series analysis and temporal cross section analysis. The used material was academic publications and the financial statements of the case company. The project was conducted to get a better view of the company's financial position by measuring its profitability, liquidity and solvency, to create necessary tools for the assignment-giving company and to develop profession- ally. The project has been divided in to two different parts: theoretical part and empir- ical part. Before these two parts, there is a brief introductory part.
The introductory part includes the pre-plans for the whole project covering the pur- pose, boundaries as well as the conceptual framework. This part was conducted to set the frames for this project.
The theoretical part includes basic information about financial ratios along with the most common financial ratio formulas used. These formulas have been presented in three categories: Profitability ratios, liquidity ratios and solvency ratios. All of the for- mulas were written down and explained briefly. All of this is followed by the case Company X's introduction, where the industry and other basic information is told.
The empirical part starts with the methodology where the means of analysis are being presented while assessing the reliability and validity of these means. The research methods chosen were somewhat both, quantitative and qualitative, as the results were both, numerically calculated and qualitatively analyzed by words. This was to get a better picture of the company's situation. After the methodology, there is a graphical and verbal presentation of the two different means of analysis; time-series and tem- poral cross-section. For the time series analysis, only the company's own financial statements were used from a period of five years. For this part, the most interesting ratios from the company's and the authors point of view were picked. In the temporal cross-section, the industry benchmarks were taken from a CD-ROM and compared to the Company's performance. The ratios used in this part were picked according what the CD-ROM had.
In the end, a tool for the assignment-giving company was created. This is an Excel sheet where the company can transfer financial statements, while another tab in the sheet picks up the words such as "assets" and checks what values they have and cal- culate ratios based on this. Also, the ratios were calculated and analyzed for the case company and did not give a very profitable, solvent or liquid image of the company's performance, though a question arises from these results; is financial ratio analysis enough to get a sense of a company's financial state?
Kokoelmat