Describing the strategy formulation process: Case "Shoulders of Giants"
Suhonen, Elja-Ilari (2017)
---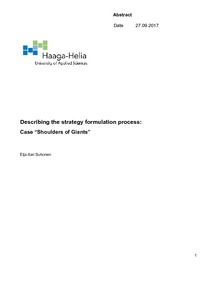 Haaga-Helia ammattikorkeakoulu
2017
Julkaisun pysyvä osoite on
http://urn.fi/URN:NBN:fi:amk-2017110916810
Tiivistelmä
This​ ​product-oriented​ ​Bachelor's​ ​Thesis​ ​is​ ​based​ ​on​ ​a​ ​real-life​ ​startup​ ​development​ ​case​ ​of Shoulders​ ​of​ ​Giants​ ​Oy​ ​Ltd​ ​(SoG)​ ​which​ ​describes​ ​the​ ​strategy​ ​formulation​ ​process between​ ​Q1/2016-Q2/2017.​ ​The​ ​objective​ ​of​ ​this​ ​Thesis​ ​is​ ​to​ ​demonstrate​ ​the​ ​roadmap​ ​of an​ ​early​ ​stage​ ​startup​ ​entrepreneur​ ​by​ ​providing​ ​an​ ​example​ ​of​ ​EdTech​ ​startup's​ ​strategy formulation​ ​process​ ​where​ ​the​ ​approach​ ​on​ ​strategy​ ​shifts​ ​from​ ​the​ ​CEO's​ ​centralized strategic​ ​planning​ ​towards​ ​collective​ ​problem-solving​ ​where​ ​small​ ​changes​ ​and​ ​actions​ ​will produce​ ​a​ ​major​ ​shift​ ​in​ ​strategic​ ​direction​ ​over​ ​time.​ ​The​ ​study​ ​also​ ​demonstrates​ ​how clarifying​ ​startup's​ ​vision​ ​and​ ​product​ ​mission​ ​is​ ​related​ ​to​ ​strategic​ ​planning​ ​for​ ​the​ ​future of​ ​development.

Founding​ ​Shoulders​ ​of​ ​Giants​ ​Oy​ ​Ltd.​ ​in​ ​2016​ ​emerged​ ​from​ ​understanding​ ​the​ ​core economic​ ​problems​ ​that​ ​higher​ ​educational​ ​institutions​ ​are​ ​dealing​ ​with​ ​both​ ​in​ ​Finland​ ​and globally.​ ​​During​ ​the​ ​recent​ ​years​ ​in​ ​Finland,​ ​there​ ​has​ ​been​ ​a​ ​growing​ ​pressure​ ​towards educational​ ​institutions​ ​to​ ​provide​ ​more​ ​cost-effective​ ​and​ ​personalized​ ​learning​ ​solutions but​ ​at​ ​the​ ​same​ ​time,​ ​governments​ ​are​ ​narrowing​ ​down​ ​their​ ​financing​ ​constantly.​​ ​Due​ ​to this​ ​dilemma,​ ​resources​ ​of​ ​schools​ ​remains​ ​limited,​ ​while​ ​the​ ​number​ ​of​ ​students​ ​keeps​ ​on growing​ ​constantly.​ ​​The​ ​situation​ ​does​ ​not​ ​occur​ ​only​ ​in​ ​Finland;​ ​All​ ​schools​ ​prefer​ ​to​ ​take in​ ​more​ ​students​ ​if​ ​they​ ​would​ ​have​ ​capabilities​ ​to​ ​do​ ​that,​ ​meaning​ ​enough​ ​teachers​ ​and the​ ​right​ ​learning​ ​management​ ​solutions.

The​ ​last​ ​two​ ​chapters​ ​of​ ​the​ ​development​ ​project​ ​discuss​ ​the​ ​latest​ ​considerations​ ​made​ ​in SoG's​ ​strategic​ ​planning​ ​during​ ​Q1-Q2/2017​ ​and​ ​suggests​ ​changes​ ​to​ ​the​ ​process​ ​and taken​ ​actions​ ​through​ ​retrospective​ ​reflection.​ ​Primary​ ​data​ ​collection​ ​method​ ​for conducting​ ​the​ ​study​ ​consists​ ​of​ ​work​ ​diary​ ​which​ ​is​ ​qualitatively​ ​analyzed​ ​in​ ​self-reflective cycles​ ​where​ ​planned​ ​and​ ​implemented​ ​actions​ ​are​ ​followed​ ​with​ ​reflections​ ​on​ ​the processes​ ​of​ ​change​ ​and​ ​re-planning.​ ​The​ ​chosen​ ​approach​ ​is​ ​qualitative​ ​action​ ​research because​ ​findings​ ​and​ ​insights​ ​of​ ​the​ ​study​ ​are​ ​reflected​ ​on​ ​actions​ ​executed​ ​by​ ​the​ ​author (CEO)​ ​and​ ​SoG's​ ​development​ ​team.​ ​The​ ​discussed​ ​theories​ ​aim​ ​to​ ​provide​ ​new​ ​strategic insights​ ​and​ ​perspectives​ ​in​ ​reflection​ ​to​ ​taken​ ​actions​ ​and​ ​planning​ ​procedures​ ​in​ ​SoG's business​ ​development.

The​ ​research​ ​chapters​ ​describe​ ​the​ ​whole​ ​process​ ​of​ ​SoG's​ ​startup​ ​development​ ​between Q1-Q4/2016​ ​in​ ​order​ ​to​ ​formulate​ ​the​ ​startup's​ ​initial​ ​strategy.​ The​ ​author​ ​also​ ​refers​ ​to​ ​the current​ ​state​ ​of​ ​development​ ​(Q1-Q2/2017)​ ​in​ ​some​ ​of​ ​the​ ​research​ ​chapters​ ​to​ ​clarify further​ ​strategic​ ​considerations​ ​in​ ​product​ ​development.​ Ultimately​ ​the​ ​study​ ​provides​ ​a retrospective​ ​roadmap​ ​of​ ​how​ ​strategies​ ​emerge​ ​in​ ​startup​ ​organizations​ ​and​ ​suggests possible​ ​changes​ ​and​ ​re-plannings​ ​for​ ​the​ ​formulation​ ​process.​ ​The​ ​end​ ​result​ ​of​ ​this development​ ​project​ ​demonstrates​ ​the​ ​latest​ ​considerations​ ​in​ ​SoG's​ ​strategic​ ​planning that​ ​were​ ​made​ ​between​ ​Q1-Q2/2017​ ​and​ ​demonstrates​ ​re-defined​ ​strategic​ ​framework​ ​for further​ ​business​ ​planning.
Kokoelmat