Finnish Music Export to Germany. Case: Facelift.
Hämäläinen, Sanna (2017)
---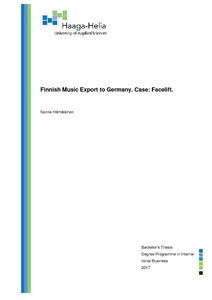 Haaga-Helia ammattikorkeakoulu
2017
All rights reserved
Julkaisun pysyvä osoite on
https://urn.fi/URN:NBN:fi:amk-2017120720122
Tiivistelmä
This is a research-based thesis investigating Finnish music export to Germany. The report covers the most significant aspects that need to be taken into consideration when a band or an artist is determining whether to export music to another country or not. The research is conducted on a case study –basis for a Finnish pop-punk band called Facelift.

The topic for this thesis came about when the author's father started working with the band in question, after which discussions between the author and the band presented the idea to study how an up-and-coming band from Finland could get their music into the German music market. Later on, conducting research on music export and providing the industry with a fea-sible study on the matter turned out to be the goal of this thesis.

In order to keep the research viable, the topic was delimitated to concern only the German market from the perspective of one particular band, thus excluding other possible export mar-kets as well as any kind of product development. The report is structured with a zipper-model, meaning that the theoretical viewpoints, research results as well as the case entity's points-of-view are discussed together in the same chapter.

The reasoning behind this structuring decision is that the research is of the qualitative sort and the topic itself offers very limited theoretical literature. Thus there is a need to inspect all perspectives simultaneously. The main research methods of this thesis were studying various theoretical concepts and interviewing professionals in the music industry, following a pre-determined schedule where the theoretical research took place prior to the interviewing pro-cess. This was due to the need of the theoretical basis to be sorted in advance in order to formulate the questions for the interviews.

The main findings of this thesis were mostly established by combining theory with the results of the interviews. From the theoretical perspective, exporting music follows many of the regu-lar lines of a standard export process, but once this information was interpreted alongside the experts' statements, it became clear that music export is an entire branch of its own. Effective execution of music export depends greatly on the type of the music and the determination of the musicians. The consensus amongst the interviewees was that in order to successfully export Finnish music to Germany, the artist or in this case, the band will need to have a major partner backing them up.
Kokoelmat