Att producera en podcastserie : Hur arbetssättet och podcaster förändrades och utvecklades under projektet 100 minuter 100 år
Vikström, Tova (2017)
---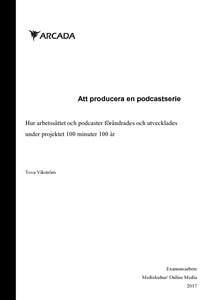 Yrkeshögskolan Arcada
2017
All rights reserved
Julkaisun pysyvä osoite on
http://urn.fi/URN:NBN:fi:amk-2017121020431
Tiivistelmä
Detta arbete fokuserar på de podcaster som producerades under projektet 100 minuter 100 år. Projektet ingick i kurserna "Narrativ design" och "Fiktivt berättande" under våren 2017, inom utbildningsprogrammet Mediekultur på Yrkeshögskolan Arcada. Under kursernas gång producerades elva filmer av mediekulturstudenter på både andra och tredje årskursen. Online mediastudenterna producerade podcaster, vloggar och byggde upp en webbsida, samt stod för den grafiska delen av projektet. Målet med 100 minuter 100 år var att visa hur de involverade studenterna ser på det hundraåriga Finland. Syftet med arbetet är att undersöka hur arbetssätten som användes under produktionen av podcaster förändrades, samt hur podcasterna utvecklades från den första till den femte. Materialet som användes var i första hand boken "Podcast solutions" av Michael W. Geoghegan och Dan Klass, och "Podcast academy – the business podcasting book" av bland andra Michael W Geoghegan och Greg Cangialosi. Dessutom användes flera artiklar från webbsidan thepodcasthost.com. Metoden som använts är case study, eller fallstudie. Detta arbete är en induktiv och kvalitativ fallstudie, med en deskriptiv, det vill säga berättande, rapport. Skillnaderna mellan den första och den femte episoden blev fler än förväntade. I den första episoden intervjuades fyra från projektet utomstående personer om identitet och deras förhållande till Finland, medan den femte endast innehöll en gäst, som var regissör inom projektet. Arbetssättet förändrades inte på ett uppenbart eller drastiskt sätt, snarare förbättrades och utvecklades det långsamt under projektets gång. Editeringsprocessen utvecklades på ett väldigt positivt sätt. Det gick både snabbare och smidigare att editera den femte episoden i jämförelse med den första. Inför den första episoden skrevs inte ett manus, bara de frågor värdarna skulle ställa. Det märktes att det skulle ha behövts ett manus då editeringen började. I de följande avsnitten skrevs manuset alltid på förhand, både skiljt och tillsammans, värdarna uppehöll ingen tydlig trend mellan episoderna. Manusmodellen som använts under den första episodens editeringsprocess krävde en uppdatering inför det fjärde avsnittet, då flera personer skulle intervjuas samtidigt. I samband med denna förändring byttes flera element ut, bland annat mikrofonerna.
Podcastserien hittas på Soundcloud: https://soundcloud.com/user-978020756
The focus of this thesis is the podcasts produced during the project 100 minuter 100 år (100 minutes 100 years). The project was a part of the courses "Narrativ design" and "Fiktivt berättande" during the spring of 2017, in the study programmes Media culture at Arcada university of Applied Science. Eleven movies were produced by the Media culture students during the courses. The online media students produced podcasts, vlogs and made a website, as well as overseeing the graphical elements. The goal of the project was showing the how the students view the one hundred year old Finland. The purpose of this thesis is examining in which ways the work procedures used during the production of the podcasts changed, and how the podcasts themselves evolved from the first podcast to the fifth. The material used was first and foremost the book Podcast solutions by Michael W. Geoghegan and Dan Klass, and secondly Podcast academy – the business podcasting book by, among others, Michael W. Geoghegan and Greg Cangialosi. Additionally, several articles from thepodcasthost.com were used. The method used was case study. This thesis is an inductive and qualitative case study, with a descriptive report. The differences between the first and the fifth episodes were more than originally expected. In the first episode four people, who weren't part of the project, were interviewed about identity and their relationship to Finland, while the fifth only had one person, who was a director in the project. The work procedures didn't change drastically, rather they evolved and improved slowly during the project. The editing process developed in a positive way, in that the fifth episode was edited both faster and smoother than the first episode. Before the first episode no script was written, only the questions the co-hosts were to ask. This became a problem when the editing started, it would have been much easier editing had there been a script. The following episodes all had scripts written before the recording. The script model used in the first episode's editing process was updated and renewed for the fourth episode, as several people were to be interviewed at once, instead of one at a time, as had been the case in earlier episodes. In connection to this, some other elements also changed, among others, the microphones.
The podcasts can be found on Soundcloud: https://soundcloud.com/user-978020756
Kokoelmat