Facilitating the transition to higher education with a digital pathway
Komulainen, Kati; Tani, Petri; Ylikoski, Teemu (2017)
---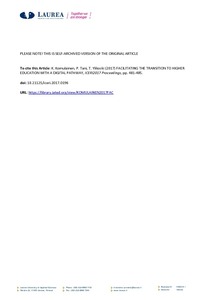 Komulainen, Kati
Tani, Petri
Ylikoski, Teemu
International Academy of Technology, Education and Development
2017
Julkaisun pysyvä osoite on
http://urn.fi/URN:NBN:fi:amk-2017121421285
Tiivistelmä
Digitalization is an important enabler for cooperation in teaching between educational levels. Higher education providers, secondary schools and vocational schools now have the means to develop shared learning offerings that harness the power of e-learning. These ventures aim to provide students with flexible learning opportunities that cross borders in the educational system. A key objective is to create a simple path for students transitioning to higher education, reducing the overall time spent in studies before students enter the work market. Study modules in higher education are being brought as a part of secondary and vocational degrees with a digital framework.

In the future, higher education institutes need to produce e-learning modules that can be integrated as a part of secondary and vocational degrees. The idea is to lower thresholds in transition to HE. This takes place as students become familiarized with studies in HE at an earlier age, and also acquire some of the skills needed in HE well before entering that stage. These cross-system opportunities are an important part of generating attraction among students finishing their studies and contemplating further education opportunities.

Laurea University of Applied Sciences in Finland has been developing a digital pathway for secondary and vocational school students, who are transitioning to higher education. Experiences with the pathway have been positive. In 2016, we started a joint project with the City of Espoo where the framework was brought to the students of the City's upper secondary schools.

Simultaneously, we wanted to investigate the utilization of e-learning tools in learning, student guidance, and other parts that specifically meet the needs of upper secondary schools' students. The project has provided an opportunity to share experiences and design a descriptive model of teaching co-operation between upper secondary schools and a university of applied sciences.

The project also aims to improve the digital competences in teaching staff and the assessment of learning and guidance methods. E-learning provides substantial advantages towards more effective teaching. It also assists in creating flexible learning opportunities for students and can bring the HE learning smorgasbord to upper secondary students, without the limitations of time and place.

One aim of the Ministry of Education's agenda has been to reduce the overall time spent in education. We hope to provide one way to meet the goal. In our framework, a secondary or vocational school student has access to a range of higher education studies. She then takes a sufficient amount of this selection as a part of her degree. When the student later enters a higher education institution, these prior studies are recognized as a part of her HE degree. As a result, we are building a working pathway towards higher education that eases the transition and reduces the total length of the student's education.

Although both secondary and vocational degrees provide eligibility for higher education in Finland, this is no longer sufficient. The demands of the society require new innovations of the educational system to meet national goals in competitiveness. Moreover, our pilot project shows implications that a student's ability to continue her studies in HE is improved if her previous secondary or vocational degree has encompassed some HE studies.
Kokoelmat