Gamified learning of a game engine : Frozenbyte's Editor Training Program
Valkki, Emma-Julia (2017)
---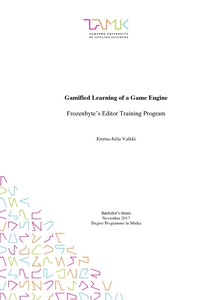 Tampereen ammattikorkeakoulu
2017
All rights reserved
Julkaisun pysyvä osoite on
http://urn.fi/URN:NBN:fi:amk-2017121821911
Tiivistelmä
This thesis was done while working at the game company Frozenbyte. As one of the oldest game companies in Finland, Frozenbyte has developed their own in-house game engine. This engine is used in all of their projects, but it is lacking proper documentation for employee training. To fix this problem they aim to gamify their editor learning process through Editor Training Program.

The main purpose of this thesis work was to analyze the existing Editor Training Pro-gram content of Frozenbyte engine to pinpoint the possible problem areas and present a solution for those issues. The secondary purpose of this thesis was to work as an exam-ple case on how to analyze content that needs to be gamified and which things should be taken into consideration while designing that gamification.

The content analysis was started by defining what gamification is and what are the best practices for it. This was done by considering various studies and meta-studies of the subject. With the best practices established, a definition of gamification that Karl M. Kapp (2012) presents in his book "Gamification of learning and instruction: game-based methods and strategies for training and education" was used to divide the Editor Train-ing Program content into elements that would be easier to analyze. In addition to the theoretical analysis, a small questionnaire was conducted among the new level artists about the user experience of the Editor Training Program tutorials and the writer herself recapped her own initial experiences with the editor tutorials.

Based on the analysis results the aim of the practical work was about making the tutorial experience more streamlined for the user. This was done by designing a solution that had better means of displaying the task information for the user and visualizing the pro-gression tracking. Further improvement suggestions about including preferred learning methods into the tutorial progress and motivating the secondary target group, the player community, into participating in learning and content creation was also presented.
This thesis managed to pinpoint some of the problem areas of the Editor Training Pro-gram tutorials and present possible solutions for them. The thesis defines gamification and uses that in analysis to pinpoint the strengths and weaknesses of the tutorials. The results are then used in the practical design progress, while considering the main target group of new employees. This way the thesis successfully works as an example on how gamification could be used for software learning and how it can be implemented in a smaller scale project.
Kokoelmat