Towards Common Information Systems Maturity Validation : Resilience Readiness Levels (ResRL)
Pirinen, Rauno (2017)
---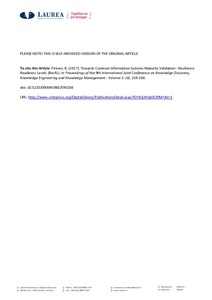 Science and Technology Publications
2017
Julkaisun pysyvä osoite on
http://urn.fi/URN:ISBN: 978-989-758-273-8
Lähdeviite:
Pirinen R., (2017). Towards Common Information Systems Maturity Validation : Resilience Readiness Levels (ResRL). , Science and Technology Publications.
doi:10.5220/0006450802590266
Tiivistelmä
The intent of this study is on a proposal of resilience readiness level (ResRL) metrics towards their aspects, factors, definition, criteria, references and further questionnaires for the contribution of combined-total maturity measures and pre-operational validation of shared and adaptive information services and systems. The study attempts to answer the following research question: how can ResRL metrics be understood in the domain of shared information systems and services. It aims to improve ways of the acceptance, operational validation, pre-order validation, risk assessment and development of adaptive mechanisms as well as the integration of information systems and services by actors and authorities across national borders.
Kokoelmat