Human-centered Design Model in the Development of Online Learning Tools for International Security Training : CASE IECEU New Media based Learning Application (NMLA)
Hyttinen, Kirsi (2017)
---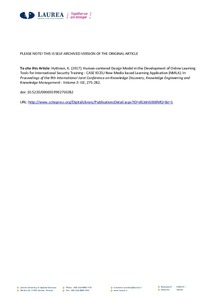 Science and Technology Publications
2017
Julkaisun pysyvä osoite on
http://urn.fi/URN:ISBN:978-989-758-273-8
Lähdeviite:
Hyttinen K., (2017). Human-centered Design Model in the Development of Online Learning Tools for International Security Training : CASE IECEU New Media based Learning Application (NMLA). , Science and Technology Publications.
doi:10.5220/0006559902750282
Tiivistelmä
A need to enhance online training solutions among peacebuilding and conflict prevention actors in the field of international security has been addressed in order to raise the collaboration, information sharing and provide more effective training. The implementation of educational technologies is inherently difficult especially if it is technology driven. This paper presents the idea of human-centered design approach in line with the principles of human-technology interaction in order to tackle the possible training challenges that may occur in the development and implementation of online and Elearning environments for adult students. As part of research and development project, the design case for peacebuilding and crisis management online-based training was conducted and studied. The case study showed that before providing the technological solutions there is a need in dept analysis on the requirements as well as iteration of algorithms. Moreover, functionality and completeness of th e instantiations, such as services, raised the motivation among the user community. The created human-centred design model for the learning environment development processes supports to meet not only with current training needs in security but also in identifying which parts of education and training can be facilitated by technology.
Kokoelmat