Money Shots : En fallstudie om bildberättandet och bildkomposition i filmen Stora Pojkar
Kirvesniemi, Petra (2017)
---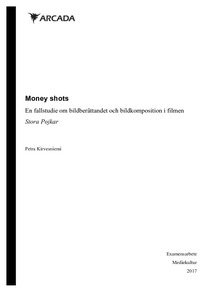 Yrkeshögskolan Arcada
2017
All rights reserved
Julkaisun pysyvä osoite on
http://urn.fi/URN:NBN:fi:amk-2017121921922
Tiivistelmä
Detta är den skriftliga delen av mitt examensarbete som undersöker bildberättandet i min examensfilm Stora Pojkar. Arbetet är en fallstudie som koncentrerar sig på mina egna observationer och reflektioner omkring förarbetet och den färdiga filmen. 
Mitt skriftliga examensarbete är uppdelat i två delar. I den första delen undersöker jag  utgående från skriftliga källor hur filmens dramaturgiska struktur ser ut. Den första delen omfattar även hur den visuella stilen för helheten av filmen uppstod utgående från teori och material som arbetsdagbok och inspirationsbilder som jag samlade under förarbetet för filmen. I den andra delen analyserar jag en bild från varje scen, de bilderna vi i filmteamet kallade för filmens money shots. Money shotsen var de bilder som vi ansåg hade mest berättandevärde i filmen. Under planeringen av filmen samlade jag material som bildmanus i form av fotografier och arbetsdagbok som jag använder för att analysera hur money shotsen kom till. Analysen innehåller också money shotsens koppling till berättelsens struktur och analys utgående från det Bruce Block kallar för de visuella komponenterna: rum, linje och form, ton, färg, rörelse och rytm.  
Syftet med detta arbete är att få en högre förståelse för det visuella språket i fallet Stora Pojkar. Jag vill få en djupare inblick i hur handling, bildkomposition och visuell design påverkar varandra. Igenom detta arbete vill jag ha svar på frågorna: Hur kom money shotsen till i filmen Stora Pojkar? Vad tycker jag money shotsen har för berättandevärde i filmen Stora Pojkar? Hur tycker jag slutresultatet blev?
Med denna fallstudie har jag lyckats skapa en enhetlig visuell stil för filmen Stora Pojkar. Processen har lärt mig hur handlingen och de visuella komponenterna tillsammans kan förmedla information och känslor till publiken. Arbetet har gett mig en förståelse om hur viktigt självkritik är för att kunna utveckla sina egna förmågor och för att kunna förmedla en berättelse i bilder.
This thesis examines the visual storytelling in my graduation film Stora Pojkar. It is a case study that concentrates on my own observations and thoughts around the preparatory work and the finished film.
This thesis is divided into two parts. In the first part I investigate how the film's dramaturgy is structured based on written sources. The first part also covers how the visual style of the film developed, based on theory and material such as working journal and inspiring pictures that I gathered during the preparatory work for the film. In the second part, I analyse one picture from each scene, the pictures we as a film team called the money shots. The money shots were the pictures we considered had the most storytelling value in the film. During the planning of the film, I gathered material such as a storyboard in the form of photographs and work journal which I use to analyse how the money shots came to life. The analysis also includes the money shots' connection to the story structure and analysis based on what Bruce Block calls the visual components: space, line and shape, tone, color, movement and rhythm.
The purpose of this thesis is to gain a higher understanding of the visual language in the case Stora Pojkar. I want to get a deeper insight in how the narrative, picture composition and visual design affect each other. Through this work I want these questions answered: How did the money shot take form in the film Stora Pojkar? In my opinion, what kind of storytelling value does the money shots have in the film Stora Pojkar? What do I think of the result of the film?
With this case study, I have managed to create a consistent visual style for the film Stora Pojkar. The process has taught me how the narrative and the visual components together can convey information and emotion to the audience. This thesis has given me an understanding of how important self-criticism is to develop your own capacity and to convey a story in images.
Kokoelmat