Effektiv förvaltning av fastighetsportföljer
Nyman, Stefan (2010)
---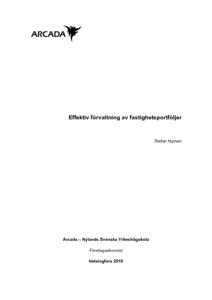 Arcada - Nylands svenska yrkeshögskola
2010
All rights reserved
Julkaisun pysyvä osoite on
http://urn.fi/URN:NBN:fi:amk-201005108686
Tiivistelmä
Syftet med arbetet är att beskriva hur förvaltningen är uppbyggd och hur den styrs i tre finska
fastighetsmanagementföretag samt hur dessa företag arbetar för att uppnå effektivitet och lönsamhet. Jag
kommer även att redogöra för vilka vertyg och medel som står som underlag för deras beslut.
Utöver detta har jag studerat hur branschen kommer att utvecklas inom kort. I teoridelen undersöktes hur
fastighetsmarknaden reagerar under olika ekonomiska faser. Efter detta undersöktes olika teorier och
modeller gällande fastighetsportföljer. Modellerna innehöll bl.a. hur porföljerna bör administreras,
evalueras, åtgärdas samt vilka strategier som kan tillämpas vid administrationen. Under teoridelens slut
undersöktes olika ekonomiska kalkylmetoder som tillämpas på fastighetsmarknaden. Under analysdelen
undersöktes tre olika management företag och deras sätt att jobba. Analysens mening var att klargöra hur
olika management företag arbetar samt vilka verktyg eller medel styr deras verksamhet. Analysdelens
sista del gick ut på att klargöra hur framtiden ser ut för dessa företag. Undersökningen resulterade i en
analys som berättar att vissa ekonomiska modeller tillämpas som beslutsunderlag för
fastighetsinvesteringar. Från mina observationer kan man dra slutsatserna att fastighetmanagement
konceptet lever i en tydlig tillväxtsfas, som reageras delvis pga. brist på arbetskraften.
The intention of my study is to describe and analyze how the real estate administration is affected when
managed by an external real estate management company and to study which tools/ means these
companies use as base for their decision-making. Furthermore I will study how this real
estatemanagement concept is built up in three different companies, and how the near future of this
industry will develop. In the theory section, I studied how the real estate industry reacts to different
economical phases and what effect this has on the profit. After this, different theories and models
concerning real estate portfolios were studied. The models contained, for example, how these portfolios
are managed, evaluated, attended to and which strategies can be applied in management. In the end of the
theory section, different economical calculations that are applied in the real estate market, were studied.
During the analyze section, three different management companies and their way of working, were
studied. The intention of the analysis was to clarify how different management companies work and
which tools and means steers their operation. The last part of the analysis discusses how the future looks
like for these three companies. The study resulted in an analysis that shows that the application of
economical calculations on the real estate market is quite sufficient and can therefore be completely
applied as base for decision-making for real estate investments. The calculations must take into
consideration factors that are created in time and with experience. From my observations you can make
conclusions that the real estate management concept, lives in a clear phase of growth and lack of labour.
Kokoelmat