DISINTEGRATION BETWEEN COMMUNICATION TOOLS : How to avoid "Information Islands" and loss of important business data
Grankulla, Victoria (2017)
---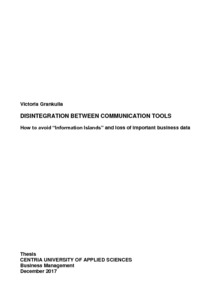 Centria-ammattikorkeakoulu
2017
All rights reserved
Julkaisun pysyvä osoite on
http://urn.fi/URN:NBN:fi:amk-2017122222500
Tiivistelmä
The aim with this thesis was to give a solution on how to avoid "Information Islands" by avoiding disintegration between communication tools and to avoid loss of important business data. The objective was therefore to study different digital communication tools that could be used by the commissioner Nooga Oy Ab. The focus was on integrating the communication tool within a helpdesk, helpdesk was chosen as a concrete process within an organization since the author already had experience with working in a helpdesk.
The theoretical framework in this thesis includes theory on digitization, digitalization and digi-tal transformation as concepts, Microsoft Office 365, industry revolutions and how the world is affected by digital changes. "Information islands" is a new phenomenon that is caused by digital changes and was also included as part of the theoretical framework. Microsoft Office 365 was part of the theoretical framework because the author decided to mainly focus on the digital tools within Microsoft Office 365.
This was a practice -based thesis since the research made was mainly practical with the support of theory. The practical work was to test the digital tools within Microsoft Office 365 and integrate them in the process of writing the thesis. The decision to only focus on Mi-crosoft Office 365 and its tools was made because it includes a lot of digital tools and it is that vast that a thesis could be written alone on Microsoft Office 365.
The conclusion was that the most important consideration that needs to be made before any new tool is implemented is whether it will solve a problem or need within an organization. The author provided the commissioner with a deeper knowledge on how the digital tools within Microsoft Office 365 perform which can be considered by the commissioner if the decision to proceed with any of the tools is made.
Målet med detta examensarbete var att ge ett lösningsförslag på hur man kan undvika "In-formationsöar" genom att undvika desintegration mellan olika kommunikations verktyg och på så sätt undvika att man förlorar viktig affärs data. För att uppnå målet undersöktes ett flertal digitala kommunikationsverktyg som kunde användas av uppdragsgivaren Nooga Oy Ab. Fokus var på att integrera kommunikationsverktyget i en helpdesk, helpdesk valdes som ett konkret fall som författaren kunde arbeta med eftersom att författaren redan hade erfa-renhet med att jobba i en helpdesk.
Den teoretiska delen i detta examensarbete var teori om digitization, digitalization och digital transformation som koncept, Microsoft Office 365, industri revolutioner och hur värld påver-kas av digitala förändringar. "Informationsöar" är ett nytt fenomen som uppstått på grund av digitala förändringar och inkluderades därav också i den teoretiska delen. Microsoft Office 365 inkluderades i den teoretiska delen eftersom att författaren fokuserade på de digitala verktyg som Microsoft Office 365 erbjuder.
Detta var ett praktikbaserat examensarbete eftersom att större delen av undersökningen skedde praktiskt med stöd av teoridelen. Den praktiska delen bestod av att testa de digitala verktyg som Microsoft Office 365 erbjuder och integrera dem i processen att skriva ett ex-amensarbete. Beslutet att endast fokusera på Microsoft Office 365 och de digitala verktygen som erbjuds är för att de digitala verktygen som erbjuds är många och Microsoft Office 365 är så pass stort så man kunde skriva ett examensarbete endast om Microsoft Office 365.
Slutsatsen var att det är viktigt att beakta ifall ett nytt verktyg kommer lösa ett problem eller behov som en organisation har innan verktyget implementeras. Författaren gav uppdragsgi-varen en djupare kunskap i hur de olika verktygen som erbjuds i Microsoft Office 365 funge-rar vilket kan beaktas innan man beslutar att implementera ett verktyg.
Kokoelmat