Funderar du på att föda hemma? : Här är broschyren för dig!
Båskman, Jennifer; Koivisto, Sofia (2017)
---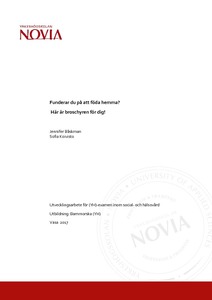 Båskman, Jennifer
Koivisto, Sofia
Yrkeshögskolan Novia
2017
All rights reserved
Julkaisun pysyvä osoite on
http://urn.fi/URN:NBN:fi:amk-2017122122378
Tiivistelmä
Det här utvecklingsarbetet är gjort av barnmorskestuderande Jennifer Båskman och Sofia Koivisto från Yrkeshögskolan Novia i Vasa. Produkten av utvecklingsarbetet är en broschyr. Utvecklingsarbetet baserar sig på vårt examensarbete "Doulans roll vid hemförlossningar" (Båskman & Koivisto, 2016).
Vårt syfte med broschyren är att mammor ska få objektiv information om hemförlossning. Broschyren är menad åt mammor som aktivt funderar på att föda hemma.
För att vi ska uppnå vårt syfte kommer vi att dela ut broschyrer på flera mödrarådgivningar i Österbotten.
Vi anser att behovet av en sådan här broschyr inte är så stort, med tanke på att de flesta mammor idag föder på sjukhus. År 2015 födde 99,6% av alla mammor på sjukhus. Samma år var det 45 planerade hemförlossningar (Vuori & Gissler, 2016).
Vi tror å andra sidan att det är bra att det finns färdigt samlad information om hemförlossning för de mammor som funderar på att föda hemma. Broschyren ska inte fungera som reklam.
Vi har samlat ihop vetenskaplig information om hur vanligt det är med hemförlossningar idag, samt varför vissa mammor väljer hemförlossning och vilka rekommendationer som finns. Broschyren upp praktisk information och hur man ska gå till väga och vilka förberedelser som det lönar sig att göra, samt vilka smärtlindringsmetoder man kan använda.
The product of this development project is a brochure, done by midwife students Jennifer Båskman and Sofia Koivisto from Yrkeshögskolan Novia in Vasa. The development work is based on our Thesis "The role of the doula at homebirths" (Båskman & Koivisto, 2016).
The purpose of the brochure is to give mothers objective information about homebirths. The brochure is meant for mothers who have been thinking about giving birth in their own homes.
To achieve the purpose we are distributing brochures to many maternity clinics in Österbotten.
We believe that the need of this kind of brochure isn't high, thinking of the fact that most of the mothers today give birth at a hospital. In 2015 99,6 percent of all mothers gave birth at a hospital. Same year were 45 births planned homebirths (Vuori & Gissler, 2016). We think, on the other hand, that it's great if there were complete information about homebirts for the mothers who really want to give birth at home. The brochyre isn't meant as a commercial.
We have collected scientific information about how common homebirths are, why certain mothers choose it and what today's recommendations are. The brochure contains practical information, how to implement, what preparations which pays off and what kind of pain relieves that can be used.
Kokoelmat