Stress Intensity Factor Solution using Distributed Dislocation Technique
Gribova, Ekaterina (2018)
---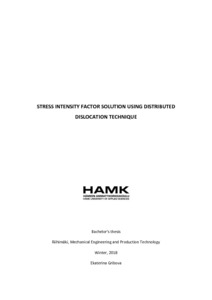 Hämeen ammattikorkeakoulu
2018
All rights reserved
Julkaisun pysyvä osoite on
http://urn.fi/URN:NBN:fi:amk-201802232722
Tiivistelmä
Nowadays, engineers are using fracture mechanics as a useful approach of studying structures with cracks. These cracks are present in structures due to manufacturing methods such as welding, machining and casting or due to the actual usage. The most important parameter in this approach is the stress intensity factor (SIF). The SIF characterizes the intensity and distribution of the stress fields in the immediate vicinity of the crack. Once the SIF of a given crack is known, it will be possible to predict whether the structure is fit for service under the given static or cyclic loadings. Although in principle, SIF of several types of crack geometries can be determined using the Finite Element Method software. In practice, this is quite computationally expensive because a very small mesh is needed at crack locations. Engineers need a fast way to determine SIF to fully adopt the fracture mechanics approach in their daily design work.

The objective of this thesis was to develop a MATLAB code that engineers could use to determine the SIF of 2D crack geometries often encountered in practical designs under any loading conditions using the distributed dislocation technique (DDT). DDT is based on Bueckner's theorem and the method of modeling the crack as dislocations along the line. The technique is a very efficient numerical method for the determination of the SIFs with a high accuracy.

The MATLAB code that can be used to determine the SIF of cracks often encountered in practice such as surface cracks near weld joints, buried cracks in casted parts as well as inclined cracks under arbitrary loading conditions was successfully developed in this thesis. This code can be combined with the Finite element method software to solve large complex structures. Future tasks are to develop the solution for more complicated shapes of cracks, for example, branch cracks, and expand the programed codes from a two-dimensional to three-dimensional solution of crack problems.