ROME WAS NOT BUILT IN ONE DAY : Future - oriented regional development towards energy - efficient residential areas
Laitinen, Jukka; Meristö, Tarja (2018)
---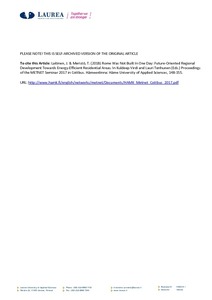 Laitinen, Jukka
Meristö, Tarja
Häme University of Applied Sciences
2018
Julkaisun pysyvä osoite on
http://urn.fi/URN:NBN:fi-fe2018090634724
Lähdeviite:
Laitinen J., Meristö T., (2018). ROME WAS NOT BUILT IN ONE DAY : Future - oriented regional development towards energy - efficient residential areas. Proceedings of the METNET Seminar 2017 in Cottbus, p. 148-155, Häme University of Applied Sciences.
URN:NBN:fi-fe2018090634724
Tiivistelmä
Often, there are visions about the desired future also in the case of energy efficient of residential areas but the challenge is how to reach that vision. The research question in this paper is how to transform the vision into practical actions applied in regional development. As a methodological tool we apply "steps towards the vision" framework. It includes the action proposals to reach the vision but it also defines the responsible actors and timing of the action proposals. The results consist of the vision and steps towards the vision for a general energy-efficient residential area in Finland. In general model, the planned actions will start from national level and they will continue via municipality level to local level and finally to individual level. As a practical example, we will also introduce the steps towards the vision in the case area of Engelinranta located in the city of Hämeenlinna. In that case, the future is highly dependent on the decisions of city concerning e.g. town planning, plot completion and technical plan. As a conclusion, it can be said that "steps towards the vision" approach helps to manage the long term time frame by dividing the future development path to smaller steps with action plans, where also the responsible actors will be defined as well as the timing of actions.