De samhällsekonomiska kringeffekterna av Skördefesten på Åland : En ekonomisk konsekvensanalys av evenemanget
Björkman, Carl (2018)
---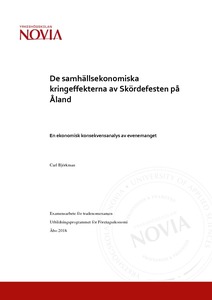 Yrkeshögskolan Novia
2018
All rights reserved
Julkaisun pysyvä osoite on
http://urn.fi/URN:NBN:fi:amk-201803193517
Tiivistelmä
Syftet med detta arbete är att undersöka vilka ekonomiska kringeffekter evenemanget Skördefesten på Åland har för det lokala samhället. Det innebär att jag genom en undersökning bland turister som besöker evenemanget ska räkna ut vad som spenderas i samband med deras besök på Åland. På så vis kan beräkna de totala ekonomiska kringeffekterna.
Arbetet är uppdelat i två delar, en teoretisk del och en empirisk del. I teorin går jag igenom vad som kännetecknar ett framgångsrikt evenemang och hur dessa skapas. Detta kan ses som en bakgrund till varför man gör ekonomiska konsekvensanalyser, vissa evenemang har ett betydligt större värde än bara de inkomster som genereras genom till exempel försäljning och inträde till evenemanget. Jag går även igenom hur man går tillväga för att göra en analys av de ekonomiska kringeffekter och teorin bakom de metoder jag använder.
I min empiri gör jag en ekonomisk undersökning i samband med evenemanget där besökare anger vad de spenderat under sina besök. Genom att därtill ta fram en siffra på antal turister som har besökt Skördefesten på Åland 2017 kan jag beräkna hur mycket som alla turister sammanlagt spenderat. För att sedan beräkna de totala ekonomiska effekterna så använder jag mig av en metod som heter input-outputanalys. Genom min undersökning har jag också tagit fram övrig intressant ekonomisk statistik för Skördefestens Vänner.
The purpose of this thesis is to find out what economic impacts the harvest festival on the Åland Islands have for the local society. I will basically do a survey among tourists that are visiting the event to find out how much they spend during their time on the Åland Islands. Based on that I can calculate how much the total economic impact is.
This work is divided into two parts, a theoretical part and an empirical part. In the theoretical part, I will go through the characteristics of a successful event and how they are created. This is the background to why economic impact studies are conducted; some events are much more valuable than just the income from sold products or tickets during the event. I will also go through how an economic impact analysis is executed and the theory behind my methods to reach a valid result.
In my empirical part I will do economic research during the event where the tourists will fill in a form on their spending during their visit on Åland. I will also estimate the number of tourists who have visited the event. When I know what the average tourist spends and how many tourists have visited the event I can calculate the direct economic impacts of the harvest festival. After this I will use an input-output analysis to calculate indirect impacts and create the total economic impacts of the Åland Harvest Festival.
Kokoelmat